Mersiv is throwing down with a massive two-day NYE celebration at the Joy Theater in New Orleans. Buy tickets here.
---
If you didn't have plans for New Year's Eve in New Orleans, now you do. The bass producer Mersiv is joined by nine other artists for a special two NYE celebration at the Joy Theater.
Taking place on Friday and Saturday (the 30 and 31) Mersiv has created what can only be described as a smorgasbord of quality bass music for the Big Easy. On Friday, Zack Hersh, Freq, Khiva, and SFAM b2b Eazybaked take the stage. On Saturday, Venture 5, Stellar, Stooki Sound, and Tiedye Ky will perform. Naturally, Mersiv headlines both nights.
New Orleans-based Bassik productions and MorFlo Records are spearheading the event. Founded in 2018 by Mersiv, MorFlo has helped push artists like SuperAve., Meduso, Kyral x Banko, and more. As an early creator of the unique "freeform" bass style, Mersiv brings these new sounds and frequencies to ears and audiences everywhere.
Mersiv NYE Celebration
Fans of the unique Mersiv sound definitely won't want to miss this epic bass showcase. With his newly released debut album, Pretty Dark Loud now under his belt, the Colorado-based producer is certainly on an upswing. Additionally, Mersiv (born Anderson Benoit Gallegos) is originally from Shreveport, Louisiana. You know what that means…a good southern throwdown is imminent.
Bass music fans are implored to arrive early so they can check out the jam-packed lineup, which includes all MorFlo Records artists & friends. You may just discover your new favorite.
Tickets for the Mersiv NYE celebration are available now from the Joy Theater. Tickets start at $30 for a single-day, GA ticket. Check out other ticket options and availability here.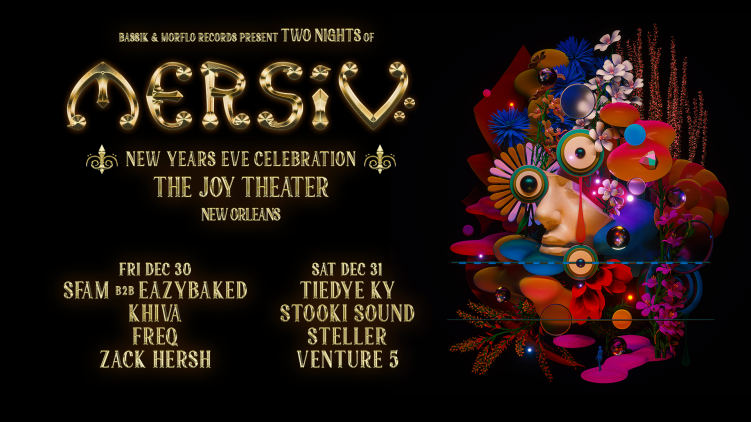 ---
Doors: 8 PM | Joy Theater | December 30 + 31, 2022
---
This editorial is Supported By Mind Warp. Supported by is an advertorial series used to describe editorially independent River Beats content that is supported by a client's advertising spend.
featured image by Drop Creative's Trey Sarmento