Young trap singer Yeat is an undeniable rising star. His newest 2023 tour is kicking off this month, including a stop in New Orleans. Grab tickets to his NOLA stop here.
---
L.A. rap sensation Yeat announces upcoming North American tour supporting recent hit project LYFË. The Portland rapper has recently exploded in popularity, much ado to his three critically acclaimed albums and high-energy performances. This month, Yeat is kicking off his 2023 tour, with New Orleans being one of his early stops.
Yeat shot into the public eye in 2021 after a couple of tracks from his debut album, Up 2 Me, gained popularity on TikTok. He certainly is on trend. His style of autotuned rage rap seems to be the battle cry of angsty Gen-Zers. His latest project, the 2023 album AftërLyfe, peaked at number four on the Billboard 200 and number one on the Billboard Rap Albums chart. Now, armed with three new albums within three years, he's taking his electrifying show on the road.
The ubiquitous rapper continues to surpass the conventions of rage rap, manipulating his vocals in a way that never feels contrived. While rage rap can often become monotonous and tiring, his latest album, with its stripped-down quality, offers a refreshing take on the genre, providing bursts of exhilaration and goofy fun.
Yeat in New Orleans
Produced by Live Nation, the North American tour supporting recent hit project LYFË. The tour kicks off on March 1st in Minneapolis, MN at The Armory; Yeat will perform his high-energy mosh pit anthems in 27 cities across the U.S. with two stops in Canada. With performances in major markets including New York and Los Angeles, the tour will come to a close with what's sure to be an iconic show at the legendary Red Rocks Amphitheatre in Colorado on April 12 thOn Sunday, March 19, Yeat headlines the Fillmore New Orleans
His past shows have been praised for their ability to turn concert halls into unstoppable mosh pits. Trap fans in New Orleans and beyond should not miss this opportunity to witness the rise of Yeat firsthand. Tickets started at $59 and are available now.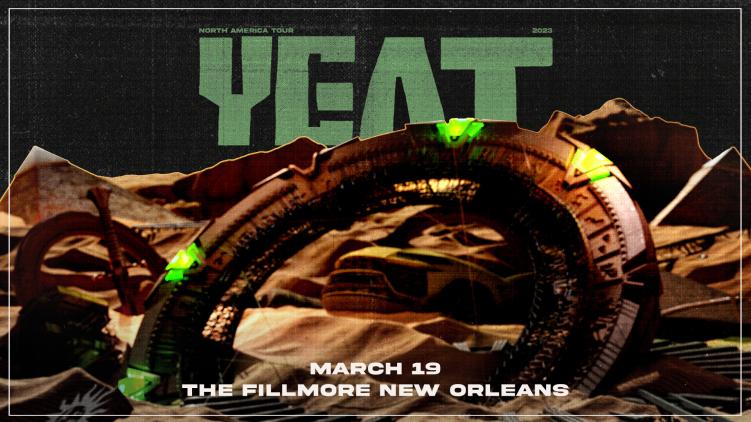 ---
Doors: 7 PM | Fillmore New Orleans | March 19, 2023
---
This editorial is Supported By Live Nation. Supported by is an advertorial series used to describe editorially independent River Beats content that is supported by a client's advertising spend.