The Big K.R.I.T. Digital Roses Tour is coming to The House of Blues on June 7th in New Orleans! Grab your tickets here.
---
Big K.R.I.T. first started making his own beats on his PlayStation as a kid. Now, he's amassed over a decade of his own music and created his own record label. The hip-hop artist is bringing his latest, the Digital Roses Tour, to The House of Blues in New Orleans on June 7th.
Justin Lewis Scott, better known as Big K.R.I.T. (a backronym for King Remembered in Time) had a lot of inspiration as a kid. He took inspiration from classic soul artists like Curtis Mayfield and Bobby Womack, and hip hop legends like 8Ball, Scarface, and Outkast. He then emerged with his own unique flair of 90's inspired Southern hip-hop.
"I'm always trying to put all these sounds that I grew up listening to together to make a sound for myself," he says.
In June 2012, he released his debut studio album, Live from the Underground, which debuted at number five on the Billboard 200 chart. After signing with Def Jam Recordings, K.R.I.T. gained notable recognition following the release of his single, "Country Shit", which featured Ludacris and Bun B on the remix.
In 2017, he decided to leave Def Jam and launched his own record label Multi Alumni. The latest in his powerhouse blend of emotional, conceptual music is the 2022 release Digital Roses Don't Die. The album includes the premiere single, "So Cool," a wavy, jazz-tinged track that recalls old Outkast energy.
What to Expect at the Big K.R.I.T. Digital Roses Tour
Hip-hop fans will be over the moon at a Big K.R.I.T. production. From the slow-moving grooves of tracks like "Southside of the Moon" to the global funk backing of "Rhode Clean," the vibe is just as strong as the lyrics on Digital Roses Don't Die.
Support for the evening comes from ELHAE's alternative hip-hop, the production talents of PRICE, and the passion of Tre' Amani. Don't miss the Big K.R.I.T. Digital Roses Tour in New Orleans on Tuesday, June 7th at The House of Blues. Tickets are on sale now.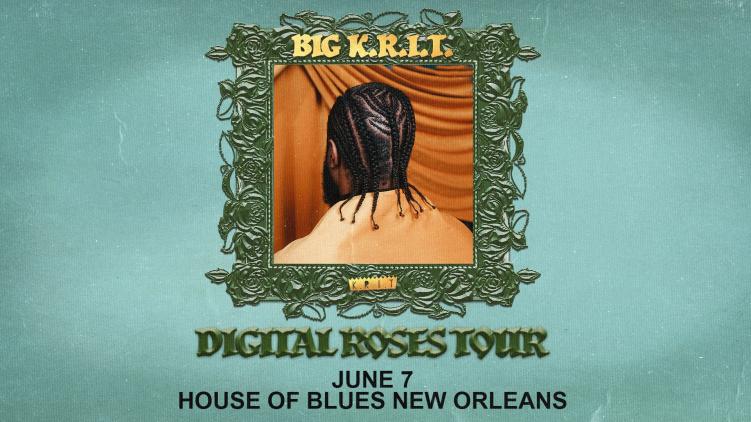 ---
Doors: 7:00 PM | THE HOUSE OF BLUES – New Orleans | Tuesday, June 07, 2022
---
This editorial is Supported By Live Nation. Supported by is an advertorial series used to describe editorially independent River Beats content that is supported by a client's advertising spend.