The pioneers of Desert Dwellers strive to create music beyond borders. Amani Friend and Treavor Moontribe began producing together in the late '90s after meeting through the infamous Moontribe.
Every month for the last 25 years, the Moontribe has held celebrations of life with spiritual techno and downtempo psy-house productions. The California-based electronic music collective is known for throwing long-running full moon rituals in the deserts of the west coast.
Now, one of the co-founders of the Moontribe is one half of the successful production duo known as Desert Dwellers.
Originally performing under the moniker Amani vs. Teapot, Amani and Treavor have explored and influenced a variety of genres in the electronic music scene. Upbeat tribal tek, psy-trance, ambient, yoga dub – the otherworldly sounds of Desert Dwellers are fun to attempt to describe, simply because there's nothing else like it.
[soundcloud url="https://api.soundcloud.com/tracks/272306573″ params="color=#ff5500&auto_play=false&hide_related=false&show_comments=true&show_user=true&show_reposts=false&show_teaser=true" width="100%" height="166″ iframe="true" /]
They began producing a series of music intended for yoga practices called the Downtemple Dub series in 2006. With producer Rara Avis from the Soundcloud channel YogiTunes, the duo began releasing music for yoga DVDs.
After experimenting with various styles, they started their own record label Desert Trax in 2005. They wanted to find a balance between electronic and organic sounds, with their artists and their own sound
Their latest release, Breath, is the fourth elemental installation in their DownTemple Dub Series. The previous Wave, Flames and Roots explored the elements of water, fire and earth, respectively. With Breath, the group took a more spacious approach when conceptualizing the air element.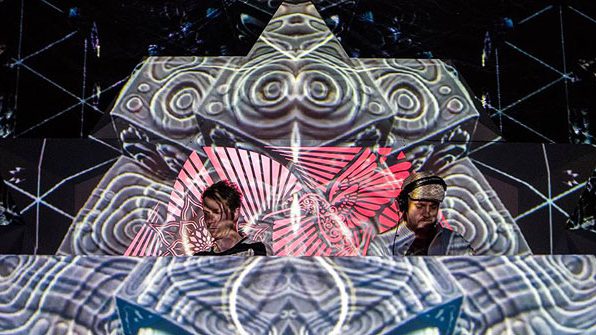 They describe their latest as a smoother sound than some of their previous releases. Now with more steady house beats and ambient tracks. "We wanted to make an album that appealed to many listeners, and could be played at a big music festival, or at an ecstatic dance or a yoga class," the group said in an interview with EDMIdentity.
Next week, Desert Dwellers will be making their New Orleans debut with a show at the Hi-Ho Lounge. With a cross-cultural performance that often includes fire performers, aerialists and powerful live musicians, Desert Dwellers create a breathtaking show that bridges the gap between movement, mindfulness and music.

Check out Desert Dwellers Breath album tour in several select cities and festivals this Spring & Summer 2018. Get tickets here.