ESPN hosted their annual award show last night, the ESPYs. Some of the biggest awards of the night were given out to some of our very own NOLA athletes.
Drew took home the award for "Best Record-Breaking Performance" for his amazing 72,000 career passing yards, a mark he broke against Washington Redskins on Monday night football earlier this year.
Zion Williamson also found himself a winner this year, bringing home the award for "Best College Athlete." Before his selection by the Pelicans in this year's draft, the 19-year-old phenom was a star Freshman for the Duke Blue Devils this year.
And if the awards weren't enough highlights, Drew and Zion delivered two really special moments for fans last night. Drew welcomed Zion to New Orleans, saying the city is "ready for him." On top of that great snippet, Drew and Zion took a pre-party photo that showed how fashionable the Brees kids are. Check out all the highlights from a NOLA filled night at the ESPYs.
Drew Welcomes Zion To New Orleans
"Zion, congratulations. Welcome to New Orleans. The city is ready for you," @DrewBrees to @Zionwilliamson at the @ESPYs#NOLAlove pic.twitter.com/kLd2Pfkpcz

— New Orleans Pelicans (@PelicansNBA) July 11, 2019
---
Odell Greets Drew Brees
OBJ and Mahomes meeting their future competition 🤝 pic.twitter.com/ksuUksLOJG

— NFL on ESPN (@ESPNNFL) July 11, 2019
---
Zion Wins an ESPY
.@ZionWilliamson wins ESPY for best college athlete

Story: https://t.co/njT31Jxbm0 pic.twitter.com/fdBu8wTy1H

— New Orleans Pelicans (@PelicansNBA) July 11, 2019
---
Dwayne Wade Has to Step His Game UP
We all have that friend who makes us step our game up with our spouse 🤣🤣🤣 @drewbrees @DwyaneWade @itsgabrielleu #ESPYS pic.twitter.com/uB8zoMCrJj

— New Orleans Saints (@Saints) July 11, 2019
---
Drew Joins The Migos
.@DrewBrees and @Migos #ESPYs pic.twitter.com/HvhFVBWi5s

— New Orleans Saints (@Saints) July 11, 2019
---
Zion Meets Kareem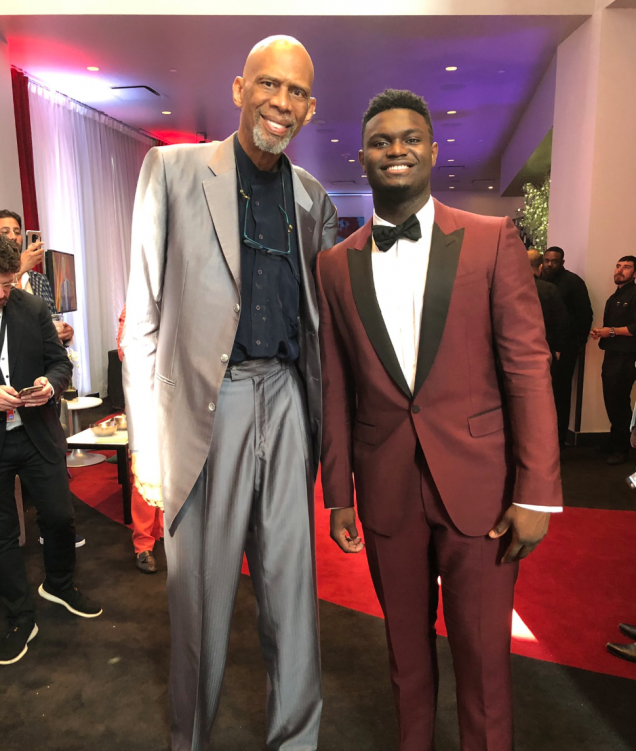 ---
Drew Thanks the USWNT for Inspiring us All
"You inspire us all,"

– @DrewBrees with a special shoutout to @USWNT ⚽#OneNationOneTeam #ESPYs pic.twitter.com/Uw36TE7fE7

— New Orleans Saints (@Saints) July 11, 2019
---
The Best Fashion of the Night