Led by Chef Eric Cook, Gris-Gris and Saint John are celebrating the holidays Voodoo-style with their annual Mangé Loa Holiday Menus! Mangé Loa – meaning 'the feeding of the Gods' – is a Voodoo ceremony and large annual feasting of the gods ('loa') featuring a variety of animal offerings, drinks, desserts and more. Followers of Voodoo believe the powers of all loa are lifted to their highest potential during this celebration. This is the second year Gris-Gris is hosting after launching in 2020, and the first for Saint John.
The three course pre-fixe menus (including a holiday cocktail) will be available December 1 – December 24 (dinner service only). Check out the full menu and details for both restaurants below.
Saint John – 3 courses at $70
+ Optional Wine Pairing $35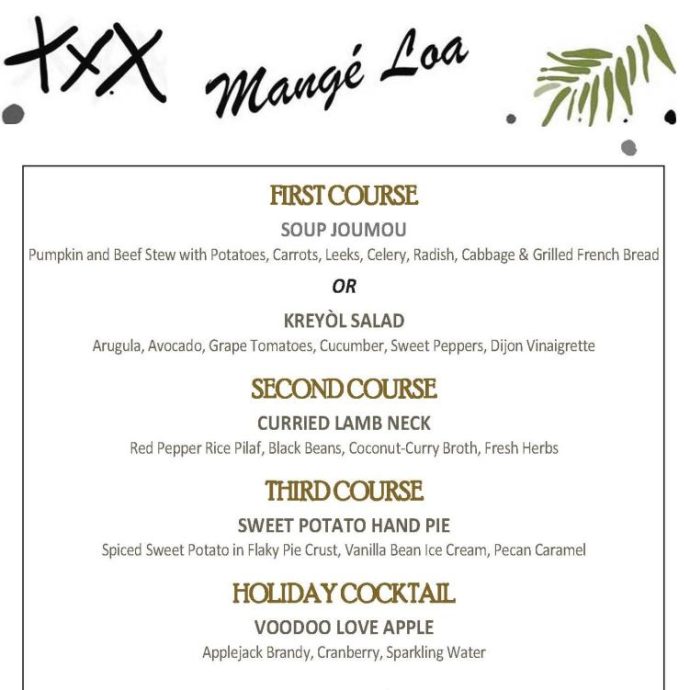 FIRST COURSE (select one)

SOUP JOUMOU: Pumpkin and Beef Stew with Potatoes, Carrots, Leeks, Celery, Radish, Cabbage & Grilled French Bread (Famiglia Carafoli Lambrusco di Modena, Italy NV)
KREYÒL SALAD: Arugula, Avocado, Grape Tomatoes, Cucumber, Sweet Peppers, Dijon Vinaigrette (Big Salt Riesling-Gewurztraminer, 2020, Oregon)

SECOND COURSE

CURRIED LAMB NECK: Red Pepper Rice Pilaf, Black Beans, Coconut-Curry Broth, Fresh Herbs (Gigondas La Cave Rhône Blend, 2019, France)

THIRD COURSE

SWEET POTATO HAND PIE: Spiced Sweet Potato in Flaky Pie Crust, Vanilla Bean Ice Cream, Pecan Caramel.

HOLIDAY COCKTAIL

VOODOO LOVE APPLE: Applejack Brandy, Cranberry, Sparkling Water.
Gris-Gris – 3 courses at $65
+ Optional Wine Pairing $35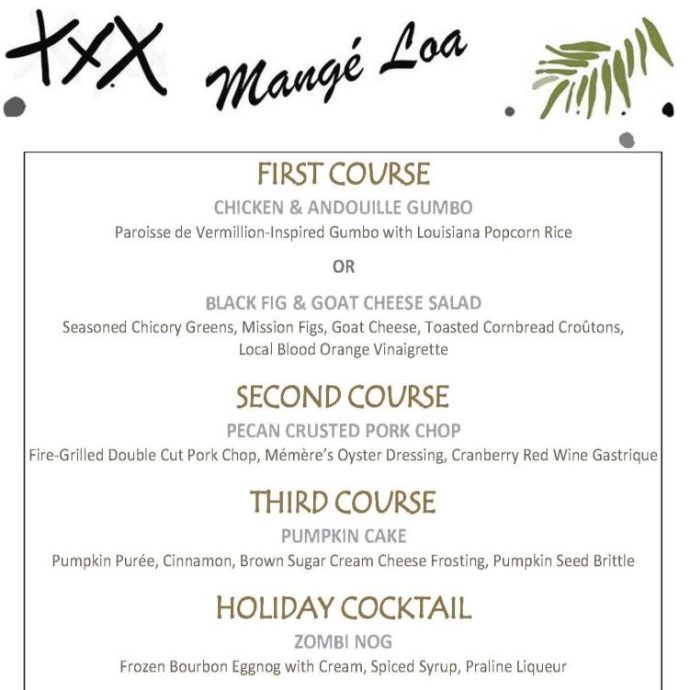 FIRST COURSE (Select one):

CHICKEN & ANDOUILLE GUMBO: Paroisse de Vermillion-Inspired Gumbo with Louisiana Popcorn Rice (The Wolftrap Viognier-Chenin Blanc, 2018, South Africa)
BLACK FIG & GOAT CHEESE SALAD: Seasoned Chicory Greens, Mission Figs, Goat Cheese, Toasted Cornbread Croûtons, Local Blood Orange Vinaigrette (Ant Moore Sauvignon Blanc, 2020, New Zealand)

SECOND COURSE

PECAN CRUSTED PORK CHOP: Fire-Grilled Double Cut Pork Chop, Mémère's Oyster Dressing, Cranberry Red Wine Gastrique (Maison Louis Jadot Pinot Noir, 2018, France)

THIRD COURSE

PUMPKIN CAKE: Pumpkin Purée, Cinnamon, Brown Sugar Cream Cheese Frosting, Pumpkin Seed Brittle

HOLIDAY COCKTAIL

ZOMBI NOG: Frozen Bourbon Eggnog with Cream, Spiced Syrup, Praline Liqueur