As if this weekend didn't have enough awesomeness, Krewe du Kanaval has hopped on board to host an after party at the Joy Theater! The most amazing part? There is no mandatory cover, however, donations are greatly appreciated since this is a part of a monthly fundraising series called Ti Pati.
This Friday's Ti Pati party features Bambii, DJ Windows 98 (Win Butler of Arcade Fire), DJ Chinua, and special secret headliners that will, no doubt, blow your socks off. Doors open at 10pm at the Joy Theater and is expected to last through 3am. Capacity is limited and priority is given to those who RSVP'd and donated. 100% of proceeds go towards initiatives serving unmet cultural and social needs in New Orleans and Haiti.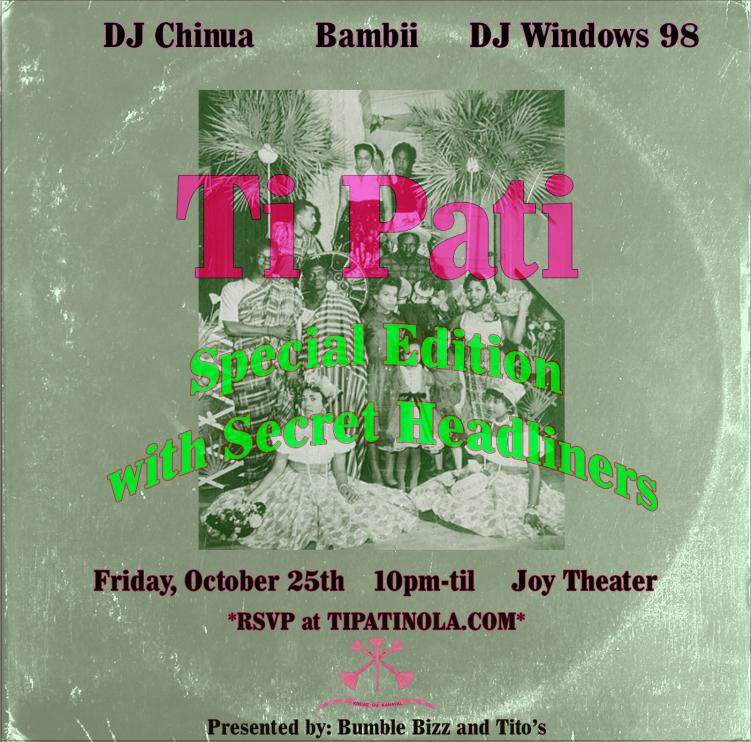 Krewe du Kanaval's history is an interesting one, going back to 2015 when Win Butler and Regine Chassagne brought members of Preservation Hall to Haiti. There, their experiences planted the seeds of a Mardi Gras krewe that celebrates both cultures. Their Krewe aims to strengthen this bond between the two geographically different, but culturally similar locations. Now, Krewe du Kanaval hosts pop-up parties almost bi-monthly at local bars and venues, always bringing the crowds each time. DJ Windows 98 is a regular on the lineup, as is DJ Chinua.
Featured image via Krewe.