New Orleans-based Instagram account @lookatthisfuckinstreet shared an image to help amplify a situation that occurred yesterday in front of Okay Bar, located at 1700 Port Street. The city of New Orleans / Roadwork NOLA tore up the intersection and further at Port Street for the past six months but yesterday, when Okay Bar employees arrived at work, most of the sidewalk to access Okay bar was inaccessible and unstable.
View this post on Instagram
Pictured above, Okay Bar explains that "although most the rubble [was] cleared, what's left of [their] "sidewalk" is still too unstable and dangerous to have customers this evening." The bar closed today, but has announced they will reopen after the city did temporarily rectify the situation.
Okay Bar shared the below image to their Instagram story earlier today with a makeshift gravel path to access the bar, AND plans to reopen with DJ Q NOLA and a pizza pop-up tomorrow!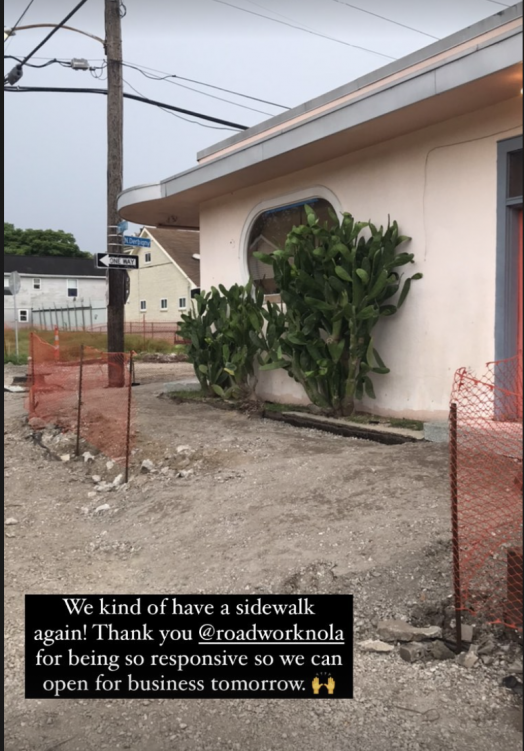 View this post on Instagram
Construction on streets has been happening all across the city with hundreds of projects left incomplete. Roadwork NOLA has left unfinished streets from the Irish Channel to Bywater, blocking driveways, letting the ruts fill up on stormy days with old, mosquito-breeding laden waters. Unfinished streets have been blocking businesses and residents for months, some close to 150 days without any construction and others, more. If you'd like to learn more about Roadwork NOLA and their "work," view their website here.
---
Featured image via Okay Bar.