Paramore is hitting the road for the first time in nearly five years. Their summer "Paramore in North America" tour will pass through New Orleans on July 6. Buy tickets here.
---
Paramore is back in action. The crowd-favorite, pop-punk band has had a strong resurgence lately. And now, they're embarking on a massive arena tour across North America. The "Paramore in North America" tour runs through the summer of 2023 with a New Orleans stop in early July.
Known for big riffs and smash hits like "Misery Business" and "Ain't in Fun," Paramore was one of the biggest breakthrough acts of the late 2000s. On Thursday, July 6, Paramore will headline the Smoothie King Center along with special guests Foals and The Linda Lindas. This is the group's first tour since 2018's "After Laughter Summer Tour." Though the emo rockers have seen a fair share of turbulence since their explosive breakthrough album Riot!, 2022 proved to be one of their strongest years yet. After the return of band founder/drummer Zac Farro, they headlined at the inaugural When We Were Young Festival and debuted the lead single "This Is Why" from their upcoming album on NBC's "Tonight Show with Jimmy Fallon."
Paramore in New Orleans
The upcoming summer tour "Portland in North America" takes the group to 26 arenas across the United States, Canada, and Mexico. Opening artists include Bloc Party, Foals, The Linda Lindas, and Genesis Owusu. Additionally, a portion of ticket sales for all North American shows will be donated to Support + Feed and Reverb.
Accompanying Paramore on the New Orleans stage are Foals and The Linda Lindas. People know Foals for their catchy, post-rock jingles like "My Number" and "Mountain at My Gates." The Linda Lindas are a band of teenage riot girls serving up big riffs and pounding punk energy.
Tickets for "Paramore in North America" at the Smoothie King Center are on sale now. Prices start at $37 apiece. Check out other ticket options and availability here.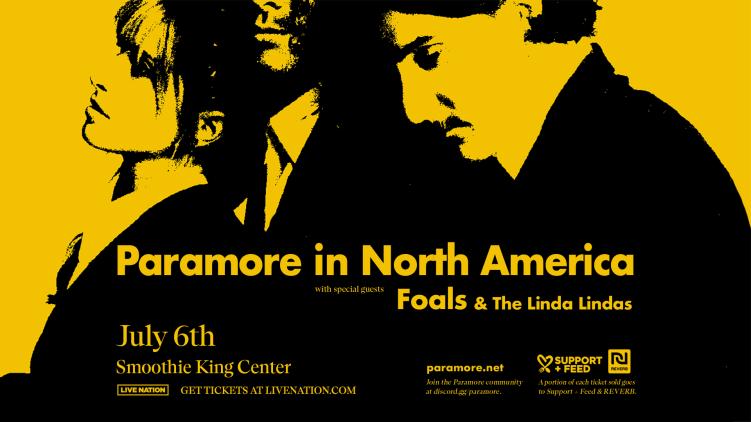 ---
Doors: 7 PM | Smoothie King Center | July 6, 2023
---
This editorial is Supported By Live Nation. Supported by is an advertorial series used to describe editorially independent River Beats content that is supported by a client's advertising spend.
featured image via Getty Images