Do you know what it's like to grow up without a father? It's a challenge that thousands of young New Orleans boys are facing right now. In a system that's already predisposed to force Black men to the bottom, the challenges associated can be overwhelming.
One local non-profit, Son of A Saint, is working to improve these challenges. By providing mentorship, education, recreation, cultural enrichment & emotional support Son of A Saint is helping to fill the void of dozens of fatherless young men in New Orleans.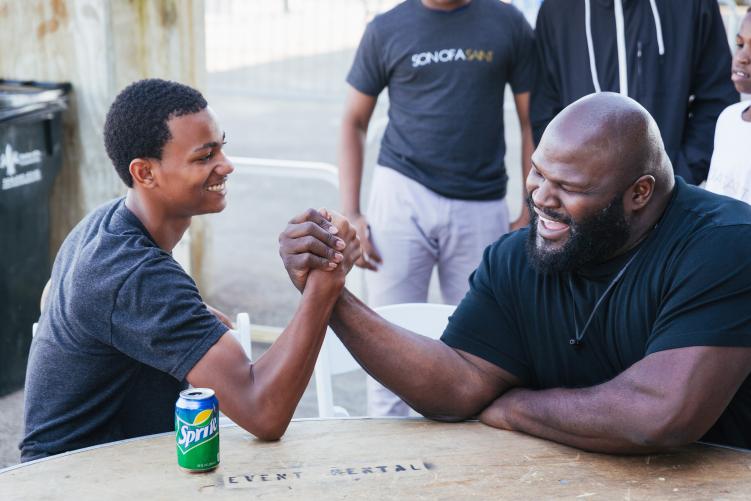 Origins of a Saint
The Son of a Saint story goes back to Bivian Lee, Jr. – a defensive back for the New Orleans Saints from '71 – '75. Lee passed at the tragic age of 36 after a heart attack. He was survived by his wife, his daughter Tamica and his son Bivian "Sonny" Lee, III.
Sonny recognized the opportunities he was afforded as a young man. Lee, III is convinced his access to psychiatrists, sports leagues, and other transformative opportunities made him who he is today. Realizing these opportunities might not have been available to everyone, Sonny founded Son of a Saint in 2011.
In an effort to "pay it forward" and honor his deceased father and single mother, he wanted to make education & enrichment available to young, fatherless boys.
How to be a Saint
So what does it take to make a lasting change in a young man's life? Son of a Saint takes a holistic and long-term approach to a very big question.
Each year, the program selects a group of boys from the ages of 10 – 12 to join. Each boy remains an official Son of a Saint mentee until he is 21, but the connection remains as they support him in the years that follow.
They aim to support every facet of a young boy's life with their holistic "mentor / mentee" program. The organization pulls from a team of staff members, volunteers, mentors, advisory committees & community partners to create a massive transformation. From group activities & educational support to college exploration & career development, the program's model demonstrates how each element of the program relates to specific outcomes.
What is the ultimate outcome? A successful and healthy adult life.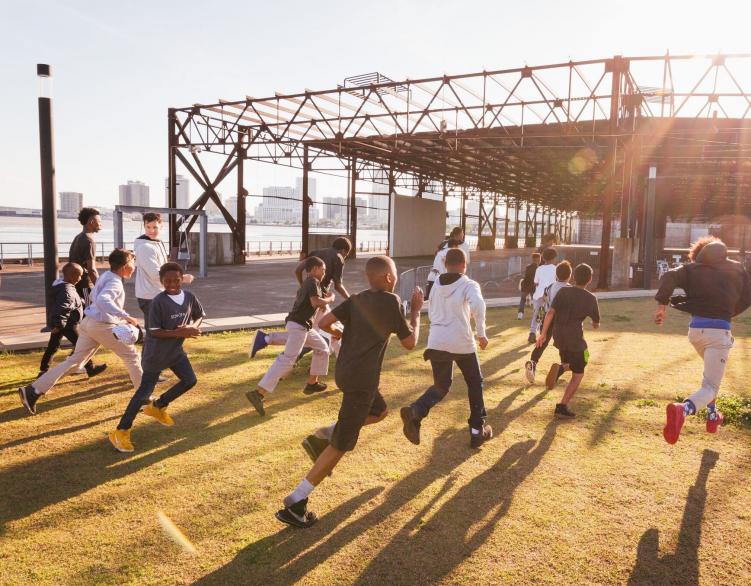 By putting themselves "ahead of the curve" with their preventative model for equality & independence, Son of a Saint is a shining star in our city's fight against systemic racism and corporate inequality.
If this seems like an all too important conversation for right now – that's because it is. Here's the statement that Sonny Lee recently released in regards to how Son of a Saint is addressing the tragically topical issues of inequality:
"We're facing an unequal system. My main approach to disrupt that imbalance is to set our young men up to be decision makers, leaders and change agents of their system. …. By occupying these positions and critical seats at the table, our young men will ensure equality from the top."- Founder & CEO Bivian "Sonny" Lee III
Shining a light on a brighter future
Coming up on their ten year anniversary as an organization, Son of a Saint has seen tremendous growth over the past few years. What started with one boy has now grown to over 100 young men from over 20 different zip codes. And the organization has no intention of slowing down.
They're hoping to double their number of mentees over the next few years. It's an effort to "blanket the city" with inspiring young men who will then set an example for their immediate, surrounding community members.
Nowadays, they have mentees attending the Harvard summer program, West Point Military Academy, Northwestern State University and more.
It's a success that's mutually shared throughout their community, their families, and the entire Son of a Saint program. Just watch Jaedon's success story from work with Son of a Saint (but prepare to get a little bit emotional).
View this post on Instagram
Amidst all the fear, anger & uncertainty going on in the world right now, it's stories and people like these that are making a difference. Son of a Saint and all their amazing members know what it means to step beyond rhetoric and into action. They walk their talk you could say.
And their suggestion for how you can help? Step into your action. It looks different for everybody, and it might seem small at first, but small and intentional actions add up over time.
If you're feeling called to join Son of a Saint and their mission, check out their involvement page for more info on how to become a mentor, volunteer, or member of the mentor council.
---
Follow River Beats New Orleans to stay up to date on events & organizations in New Orleans.
---
Images via Son of a Saint