It's Holiday time in New Orleans! Celebrate the season with a top-notch Friendsgiving, work Holiday party, or to just get together in style at a New Orleans restaurant. Many spots around the city offer unique experiences for large groups. Check out some of our top picks to host your party below.
Gris-Gris
If you're looking for a room where your crew can have their own space separate from the restaurant, Gris-Gris' Samedi Room is for you. The private space has its own dedicated area complete with dining table, kitchen, private balcony, and there's even a TV! The table fits up to 12 people, but larger dining accommodations are available by request.
For more information or to book your next private event, email events@grisgrisnola.com.
Ruby Slipper Restaurant Group
With various locations around the city and the ability to host after-hour events (since they're only open until 2pm on weekdays), the Ruby Slipper is a great option! Besides, who doesn't love breakfast food and mimosas at any time of day?
Reach out to the Ruby Slipper team for more information on hosting your party at Ebony.Reed@slippercafe.com
Lucy's Retired Surfer Bar & Restaurant
Lucy's Surfer Bar & Restaurant located in the CBD has its very own "Attic," a renovated private party venue located on the second floor of the restaurant. The space is perfect for those with larger parties as it can comfortable accommodate up to 250 standing and 80 seated guests. The Attic also has exclusive access to a private balcony that overlooks Tchoupitoulas Street.
To get your party started, contact their Event Manager directly at eventmanager@lucysretiredsurfers.com.
Commander's Palace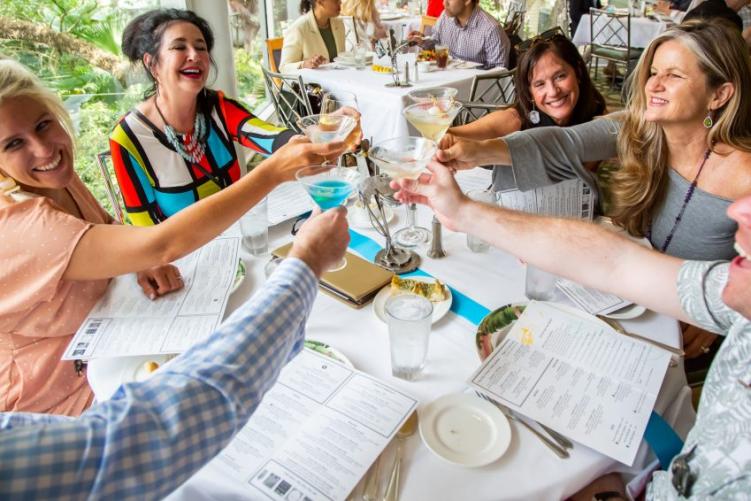 Plan something fancy at one of New Orleans' favorite restaurants. Commander's Palace makes entertaining easy with a variety of options for your crew. They pamper you and your guests with unparalleled hospitality and award-winning cuisine.
Contact Commander's event coordinator, Morgan Trulen at Morgan@commanderspalace.com.
Longway Tavern
Enjoy the outdoor courtyard at Longway Tavern for your next event! Their central location right off of Bourbon Street in the French Quarter is the perfect option for those that might have folks joining from out of town. Hop on over to Bourbon afterwards to keep the party going!
For large party dining options and private event inquiries, email events@longwaytavern.com.
Copper Vine
Take advantage of the beautiful courtyard at Copper Vine Wine Pub for your next private event! Copper Vine, located at 1001 Poydras Street, is the perfect spot for those that work in the Downtown district area. Fill out the Inquiry Form here if interested.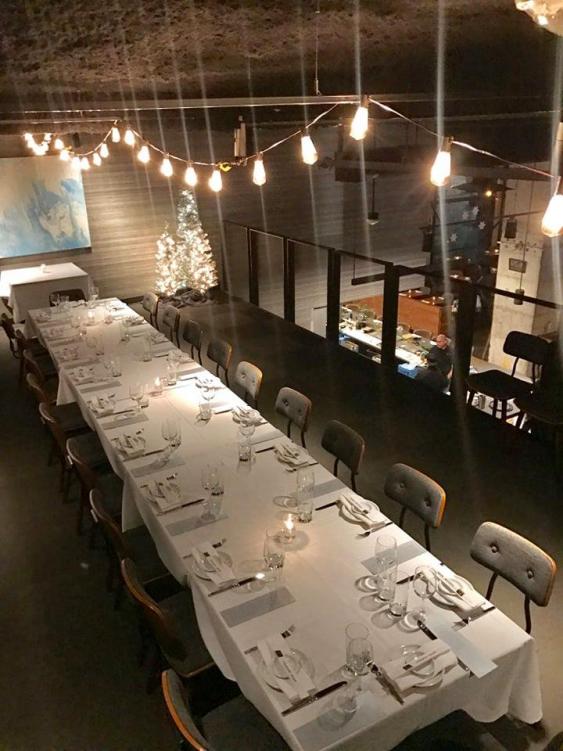 Ts
unami Sushi
There's always a reason to celebrate at Tsunami Sushi! The CBD-located restaurant has its own private space upstairs that can accommodate your large party. Fill out the form here on the website for more information.
Annunciation
Annunciation has a gorgeous private upstairs dining room area that not many people know about. The dining room also includes your very own bar, and can seat dinner for ~80.
To plan your next event, contact the event coordinator at ksparks.annunciation@gmail.com.
Republic NOLA
This one is for the large, LARGE company! Republic NOLA's 7500 square foot space allows for tons of different formats and different types events with up to 1000 guests. For those with a smaller amount of people, utilize the top, outdoor space (the Mezzanine) for your party.
Request a quote for your upcoming event at Republic NOLA here.
The Library
Upscale bar bites. Craft cocktails. Balcony seating. 32 beers on tap. Wine on tap. This laid-back spot is the perfect place for your laid-back crew! The Library offers private or semi-private options with a variety of add-on's from food to drinks. Plus, their sliders and wings are to die for!
Email the Library team now for more information here: hello@libraryneworleans.com.
Where is your team hosting their Holiday party this year? Let us know in the comments below!
---
Featured image via Gris-Gris.