This article is the second part of a series looking at the Preservation Hall Foundation's Sousafund Program. Our final piece will cover this year's recipients, and the accompanying awards ceremony.
---
in late August, River Beats covered an open call for applications to the Sousafund, a program organized and administered by the Preservation Hall Foundation. Though the admissions process has closed, the most fulfilling part of the program lies ahead: matching deserving students with life-changing instruments. Here at River Beats, we're hungry for anything that is made in New Orleans — especially musicians. Our anticipation to meet the 2019 Sousafund class is high.
To gain a sharper understanding of what these future artists are stepping into, River Beats took a look at the origins of the Sousafund. In a conversation with Ashley Shabankareh, Programs Director for the Preservation Hall Foundation, we talked about the difficulties, triumphs, and the past and future scope of where a program like the Sousafund can go. You can take part in that conversation by reading on.
So Ashley, tell me how this program kicked off– where did the idea begin?
"The Sousafund started in 2018. Ben Jaffe (Creative Director, Preservation Hall) had his sousaphone stolen after a show. There was this tremendous outpouring of love, people wanting to buy him a new instrument. Ben utilized this support to instead give back to the young musicians within the New Orleans Community. We started with a two-month campaign to fundraise in support of the program, and then we officially launched last fall.
In particular, sousaphones can be expensive. Even with support from instrument manufacturers and music stores, the average sousaphone costs $4,000 and up. Refurbished, they can still come to around $2,000. By providing quality equipment to students, we are supporting the mission of the program to get these financially cumbersome instruments into the hands of kids who want to play them."
"It started with a theft and turned into something much nicer for the community."

– Ashley Shabankareh, Programs Director
Where does the funding for the Sousafund come from?
"The funding actually comes from all individual donors. It comes from people who have seen a need for this in the community and want to make a difference."
You have mentioned that kids are the heart of this program. How many students applied your first time around?
"We had twenty initial applicants, and we whittled it down to four. We make the decision based off a few criteria. This includes financial need and the students' trajectory for pursuing a career in music versus just having the instrument for their school music class. We're trying to look at personal growth, not just as musicians, but as individuals."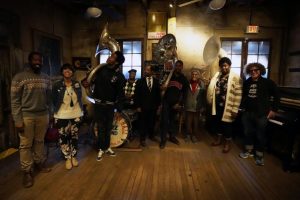 We also look at how they've grown as students, which means getting recommendations from their music directors and teachers. We try to understand the students as more than just names on a piece of paper.
What are the difficulties to that process?
"Since Orleans Parish is a 100% charter school system, it can be difficult to connect with all the different music programs in the area. Most people would think that kids would be flocking at it, but it's hard to get a deep pool of applicants when information about the program is dispersed in so many different ways. Unfortunately, it's not as simple as making one phone call to one director, now it's making twenty to thirty phone calls across different charter programs.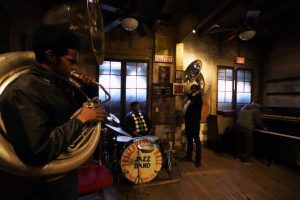 To help address this, we work with other community organizations like Artist Corps NOLA, who recently hired Johnathan Bloom to serve as the Director for Music Education. He's fulfilling a role thats no longer in the school district. We are thankful to have individuals like him who can reach out and help us interface with music educators across New Orleans"
Let's talk about past recipients. How have you seen this program impact the students and their PROGRESS as musicians?
"It's really great seeing students go through a trajectory and tradition like that of the most influential people who played here in New Orleans. Playing in the square, playing with other musicians, and moving forward on that path. It's really a special thing."
"Darnell currently plays in Brass Bands. On the weekends, he stops by the Hall before running down to the square with his instrument. The first time I saw him he had already coated his instrument in stickers and really made it his own sousaphone. I started getting weepy at the gate to the Hall! He now goes by Tuba Slim when playing.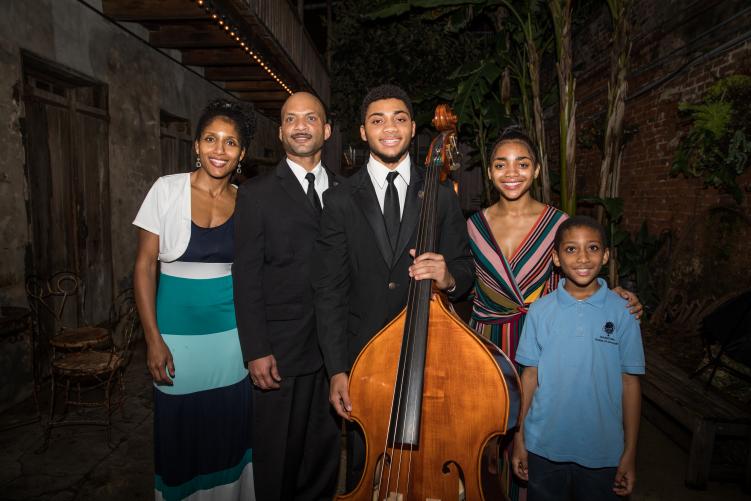 Another student is Kerry, who is now attending Xavier University. He's in the music program there and playing with his own instrument.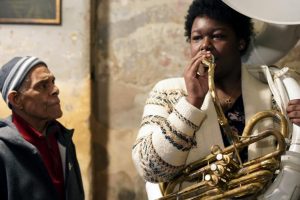 Perryion suprises me every time I see her. She's always telling me something new she's done. She's going to camp this past summer at Emory. She wants to be a doctor while finding a way to use that every day with music.*
And Darryl, who just graduated from the NET in Gentilly. I'm excited that he gets to take the next step in pursuing his career in music. He's got the right tool to move forward."
* Perryion wrote to River Beats about her experience as a Sousafund recipient. She had the opportunity to play on Fox 8, meeting the late Nancy Parker. In her own words, Perryion spoke about the program's impact on her life.
"This program impacted my music career by people noticing that a young black girl plays the tuba. This is giving me more opportunities to play at special events and places."

– Perryion Lewis, Sousafund Recipient
Perryion further mentioned how, "receiving this award, this opened my eyes to new opportunities. This will help me pursue my passion for music. Getting this tuba really did boost my confidence in me learning about music.
"In each of the students who have received instruments from Preservation Hall Foundation, I see a huge boost of confidence, all thanks to having the tools they need to grow."
How many recipients should we expect this year?
"We've got five instruments to award this year. Three are upright basses, and two are sousaphones. We can't wait to deliver them to our new Sousafund recipients."
---
Are you as excited as we are for this next round of homegrown musicians? Sound off in the comments below, and keep your eyes peeled for the third and final piece of this series.