The notion of living a life of creativity has always been with North Carolina native, Tanna Stratton. Beginning her ventures as a writer. She pursued a major in journalism while in school. Changing her aspirations later to becoming a director, taking film classes. Painting was started as a hobby for Tanna in 2011.
"In 2011 I started painting casually, giving them away as gifts to my friends and realized I had a thing for it, but I didn't decide to make it my career until 2013."
The calling of being a painter struck her during her morning routine. Tanna was a recent film school drop out. She had been painting in acrylics for a couple of years already as a hobby. The thought of painting as a career seemed far fetched to Tanna. Putting a lot of thought into changing her career path she came to this realization.
"I had been painting in acrylics for a couple of years and loved it. I never thought of it as a source of good income, nothing I could actually pursue as a career. It just seemed too good to be true or something, painting for a living. But then I started thinking, aren't there artists out there in the world? Aren't there people who not only support themselves but thrive from making paintings? These people do exist, so what reason was there that I couldn't be one of them? And that line of thinking changed everything."
Support is one of the most influential variables in the career pursuit of an artist. She has been showered with support, from her family on to her co-workers. Tanna explains how she has been humbled by the tremendous support she receives from everyone in her life.
"The overwhelming support has humbled me because I wasn't even too sure about it myself at first. They definitely fired me up, like these people believe in me so much that I just GOTTA be great."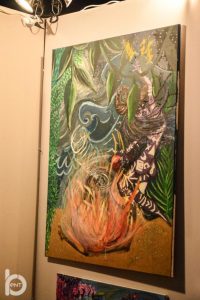 Other artists have also played a big role in supporting this aspiring artist. Sharing similar perspectives of their life and where they are headed she had this ti say.
"I will also say that other artists, even ones I don't know,  have touched me with their encouragement and empathy. They share the same late night wide eyes as me and understand the insatiable need to create, so that support has been clutch."
Inspiration is a hard thing to come by in this creative business. Many different artists have many different sources of inspiration. Recognizing and receiving inspiration comes easier to some compared to others. Tanna is one of those artist who do not have trouble finding inspiration.
"I get inspired pretty easily. sometimes old photographs, sometimes buildings, nature, famous women I admire, like Grace Jones or Cleopatra."
Tanna also gives the city of New Orleans credit because of a culture that runs so deep. Music is a constant source of inspiration for her. Lyrics stand out the most to her when listening to music while she does, pretty much, everything.
"My biggest inspiration is song lyrics. I'm constantly listening to diverse types of music, while painting, while driving, while cooking and cleaning, while working out, etc and I'm always hearing lines that seep into my head and make me think of a picture to go with it. Probably over half my paintings were inspired by lyrics."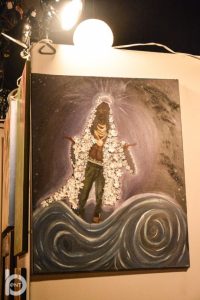 Along with finding inspiration for igniting her own creativity, we wanted to know what artists she admired. Tanna was asked what other artists have influenced her work the most. Explaining how she channels so many artists through her pieces, it is difficult to pick just one.
"I will say that traces of Brian Viveros dark soldier pinups are in a lot of my art. He has a very specific style, one that you can immediately look at an say "oh that's Brian Viveros" and although his paintings all have a very similar theme and concept, they are all so individual. Romanian oil painter Taras Loboda and Polish watercolor artist Karol Bak are also heavy on my radar for their uniquely stylized depictions of women."