Famous New Orleans muralist and multi-media artist BMike unveiled his first gallery show last night at the Newcomb Art Museum.
While you may be familiar with the artist's work around the city on sprawling building walls, this is Brandan "BMike" Odums very first solo exhibition in a museum setting. He's risen to fame through the years for transforming neglected, urban spaces across New Orleans in to celebratory pieces of art. After Hurricane Katrina, his empowering images showcased the people of New Orleans and their resilience when they needed it most.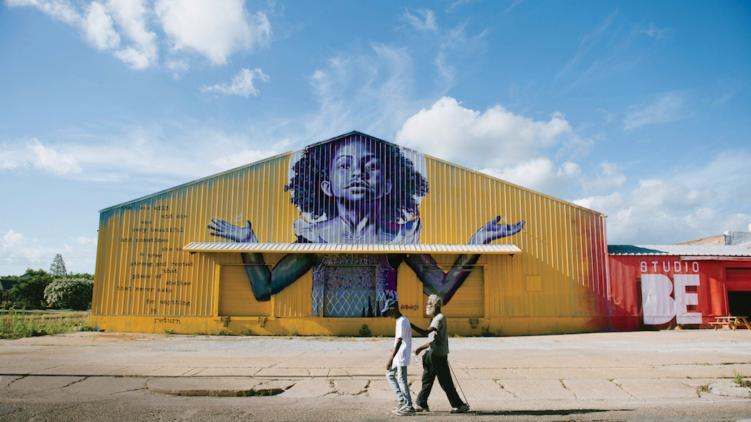 His critically-acclaimed BE mural trilogy is sited throughout New Orleans and includes the former Florida Housing Project in the Lower Ninth Ward, the five-story DeGaulle Manor apartment complex in Algiers, and a 35,000 square foot warehouse in the Bywater neighborhood now known as Studio BE.
BMike and the Newcomb Art Museum celebrated the opening of NOT Supposed 2-Be Here last night with an opening reception on the Tulane campus. The gallery features site-specific installations as well as past work. It's a retrospective of the people and the place that made BMike the artist he is today. He asks the question of what kind of art belongs in a museum, and explores four different takes on inclusion and identity drawn across notions of art, race, place, and accessibility.
The gallery is an immersive and colorful playground of multimedia storytelling. It's a blend of street art, pop culture and gallery-level prestige.
Outside of New Orleans, BMike's murals appear in New York City's Times Square, a men's prison in Southern California, the San Carlos Apache Reservation in Arizona, and on the streets of Atlanta, Miami, Detroit, Jersey City, and along border walls of the West Bank. The recipient of an NAACP Image Award, BMike has lectured at the Aspen Institute, TED conference, and many prestigious universities.
BMike's exhibit will be at the Newcomb Museum of Art through the end of May.