Boyfriend is taking over The Joy Theater with members of The Revivalists on April 28th in New Orleans! Grab your tickets here.
---
The "campy rap antagonist" known as boyfriend is bringing her futuristic blend of booty bass to the joy theater later this month. The April 28th show is a menagerie of some of New Orleans' best musicians, with members of The Revivalists backing the performance.
Suzannah Powell, better known by her stage name Boyfriend, coined the term "rap cabaret" to describe her performance-centric live shows. For her upcoming performance at the Joy, she's joined by fellow New Orleanians from The Revivalists, Galactic, and Sweet Crude.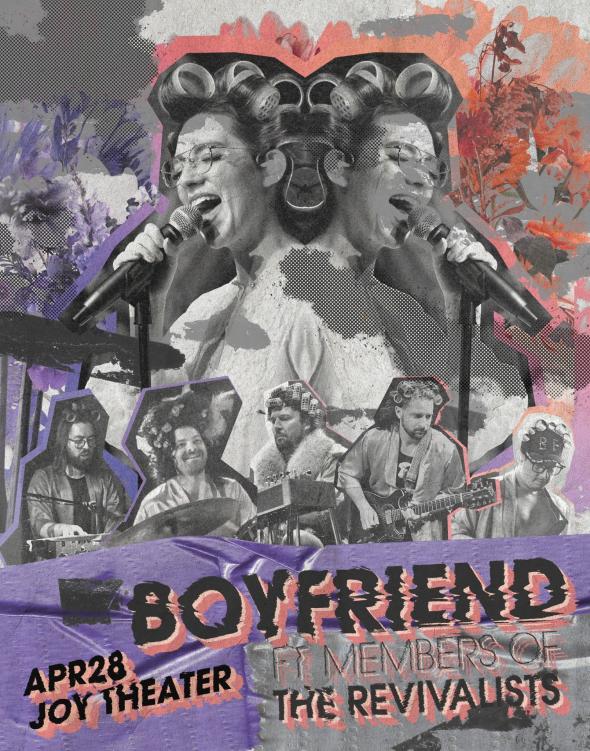 NPR described Boyfriend as "mysterious, raunchy, feminist rap." And plenty of other people are talking about the artist as well. It's not unusual for her act to take her across the globe in Madonna-Esque cone bras and giant hair curlers. It's an eccentric show fitting for a reawakened New Orleans after a two-year hiatus from live music.
As a talented mile-a-minute rapper, her rhymes often address social subjects like sex, feminism, gender, and empowerment. She chose her stage name Boyfriend both because she wanted a name that evoked a feeling from everyone and because she felt the overuse of the term among her friends was "unintentionally oppressive."
Always a proud collaborator with fellow New Orleanians, Boyfriend will be joined by the entire Revivalists band except for David Shaw (lead singer) and PJ Howard (percussion). Her background vocalists for the evening also include some familiar faces. Jelly (lead singer of Galactic) and Alexis Marceaux (lead singer of Sweet Crude) will also be at the performance.
Save for a few singles released in 2020, we haven't heard much new music from Boyfriend. But we're excited to see this collective performance at the Joy Theater.
---
Doors: 7:00 PM | THE JOY THEATER – New Orleans | Thursday, April 28, 2022
---
This editorial is Supported By The Joy Theater. Supported by is an advertorial series used to describe editorially independent River Beats content that is supported by a client's advertising spend.