July is in full swing in new Orleans. After the ending of Essence Fest, the events calendar in NOLA slows down for the summer, but only a bit. So, what's happening in NOLA in July? For the first two weeks, we have the annual Running of the Bulls, Bastille Day, and a slew of awesome musical performances coming to town.
Here's What's Happening in NOLA in July
Running of the Bulls 2022
Each year, Crescent City hosts its own version of Spain's Encierro de Pamplona with Running of the Bulls. This year's Running of the Bulls takes place July 9, with events happening all weekend long. For more information about New Orleans' Running of the Bulls, head to the official website here.
July 8 – July 10 | Arts / Warehouse District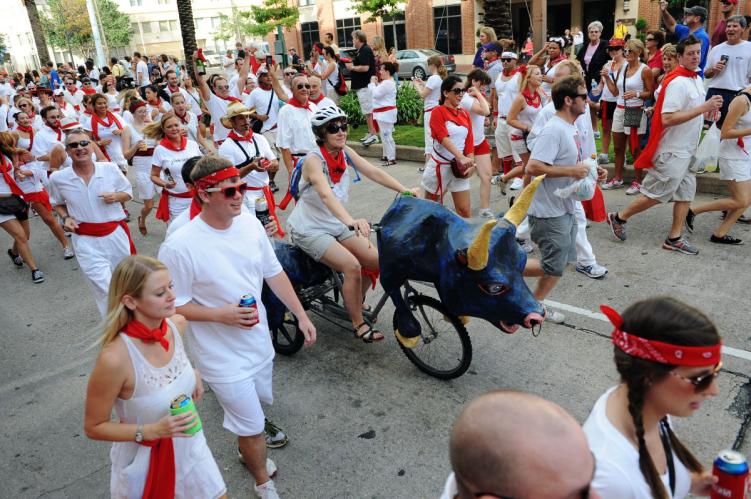 Free Summer Movie Series – SOUL at The Orpheum
After landing the gig of a lifetime, a New York jazz pianist suddenly finds himself trapped in a strange land between Earth and the afterlife. Join the team at The Orpheum for the latest in their free summer movie series.
July 7 | The Orpheum Theater | Doors: 6 pm
Cruel Summer: a Taylor Swift Dance Party
Summer's a knife – so come dance it out at Cruel Summer, the first installment of seasonal Taylor Swift dance parties now in New Orleans! Dancing, themed drink specials, a Taylor conspiracy theory-themed photo booth/art installation, original merch for sale, and more! Come in your best Taylor look to enter the costume contest and take home a prize, or just come ready to get down. No cover.
July 8 | The Domino | Doors: 10 pm till whenever you cry like a baby coming home from the bar
Salvation at The Rabbit Hole
Under the sweltering summer sun, and into the radiant midsummer moon, we celebrate the ritual of dance. We'll take you all the way to the astral plane and back down to Earth. The occasion marks 29 solar laps for virtue_signal. It's a celebration of life, music, community, friendship, triumph, and ecstatic release.
July 9 | The Rabbit Hole | Doors: 6 pm
R&B Views with Legatron Prime at The Pool Club
Visit The Pool Club at The Virgin Hotel on Saturday, July 9 and vibe to R&B beats with Legatron Prime. Lounge by the pool and enjoy the breathtaking Downtown New Orleans views along with music selects from 3 pm – 7 pm.
July 9 | The Virgin Hotel New Orleans| 3 pm – 7 pm
Animal Collective at Toulouse Theater
Winter Circle Productions presents Animal Collective live in concert at Toulouse Theatre on Tuesday, July 12, 2022. Support comes from Sham. Animal Collective has partnered with PLUS1 so that $1 from each ticket goes to support organizations advancing justice, equity, and dignity, including Serve Your City DC and National Harm Reduction Coalition.
July 12 | Toulouse Theater | Doors: 7:30 pm
Purity Ring at Joy Theater
Purity Ring will perform at the Joy Theater to support their newest album WOMB. WOMB is the newest offering from the duo from Edmonton, Canada, and their third album on 4AD.
July 13 | Joy Theater | Doors: 7 pm
Bastille Day Fête
Celebrate New Orleans' French heritage and the French national holiday at this year's Bastille Day Fête. Join the Alliance Française de La Nouvelle-Orléans on July 14 for crêpes, a champagne bar, a French DJ, live music, kids' activities, and more. If you'd like free admission and a free t-shirt, you can volunteer to work the event here. For more information, see the Alliance Française website.
July 14 | Alliance Française of New Orleans | 6 pm – 10 pm
Kill The Noise at Republic
Kill the Noise is returning with his Embrace Album Tour on July 14th with local support from Gorilla T, SEVNN b2b Danno, and yoduh. Get your tickets now!
July 14 | Republic NOLA | Doors: 10 pm
Sam Bet with Luke Julien and Odd The Artist
Looking to turn it up a little? NOLA's Sam Bet, Luke Julien, and Odd The Artist are headlining Gasa Gasa on July 14. Tickets are on the low.
RuPaul's Drag Race Werq the World Tour
The official RuPaul's Drag Race World Tour returns with an all-new production for 2022! An experiment gone wrong has sent the audience spiraling through time with no way of returning to the present. Join Kameron Michaels, Rose, Vanessa Vanjie, Yvie Oddly, and all finalists from the upcoming 14th Season on a journey through iconic periods of history in hopes of finding your way back to 2022. Presented by Voss Events in collaboration with World of Wonder and VH1. Tickets available at the box office or at Ticketmaster.com
July 15 | The Saenger Theatre | Doors: 8 pm
Britney Spears Burlesque Brunch
Join Trixie Minx and her crew for a Britney Spears-themed burlesque brunch to kick off your Saturday morning at Virgin Hotels New Orleans on July 16. Brunch will be a 2-course prix-fixe menu with options. Show times start promptly at 10:30 am and 1 pm and your table is reserved for an hour and a half. A credit card is required for all reservations with a $25 per person cancellation policy. Britney Spears-inspired costumes and outfits encouraged!
July 16 | The Virgin Hotel New Orleans| 10:30 am – 1 pm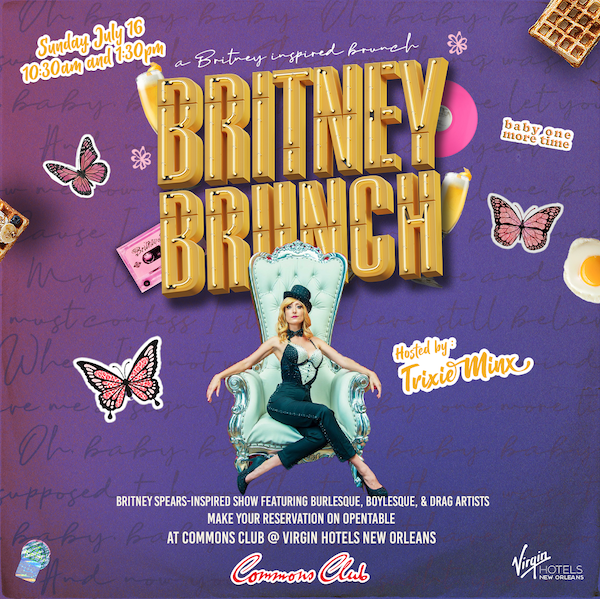 The Lower Lair
The Lower Lair is a party celebrating local house music in an upscale environment. Join The Lower Lair on Saturday, July 16th with PassTheJeffrey, Mardi b2b Rooster, Wander (House set), and ???? b2b ???? Get your tickets now!
July 16 | Republic NOLA | Doors: 10 pm