The changing of a new year brings a shift in energy, outlook, and goals. For those of us in New Orleans, we know that the new year also brings us closer to the Mardi Gras.
What those of us in Nola also know, is that with so much celebration going on, feasting is frequent and drinks stay pouring. It may be a unique time, but carnival season can make it difficult to hang onto some of those health-centric resolutions.
Fortunately, there are people out there who think about these sort of problems (and then work out solutions to keep us honest). One of those solutions is Ochsner's Eat Fit menu seal.
The Eat Fit Program, coming into its fifth year, is a big tool for helping commit to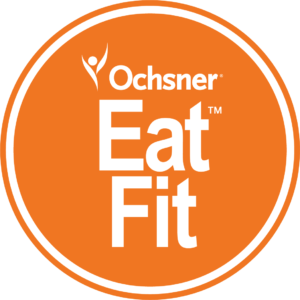 your goals over the Mardi Gras season, and beyond.
Throughout the city (and several other regions in Louisiana), the Eat Fit seal can be found printed next to menu items of specific nutritional merit. You may have seen the label before, next to a dish that sounded a bit less decadent than those gravy fries you were eyeing.
Or, in an act of strength, you may have even ordered something with its stamp of approval. Possibly, your eyes were glued to the cocktail list and you missed it entirely. Whatever your experience with the program is, don't worry: River Beats is here to help you catch up. Keep reading for our scoop on how to use Eat Fit to stay in-line with your resolutions, without missing out on your culinary tour de force around town.
The Basics
Eat Fit was created in 2013 by a registered dietician and Nola.com food nutrition columnist Molly Kimball. The program was designed as a way to take the surprise out of finding healthy options to dine on.
Eat Fit operates simply: any menu item that is marked by its seal indicates a dish that is within a particular nutritional parameter. Want an Eat Fit entrée? It is guaranteed to be a maximum of 600 calories, with less than 8 grams of saturated animal fat and 0 grams of white refined carbs.
Interested in an appetizer? Then your caloric count (as well as fats, sugars, and proteins) will be half of what is criteria for the main course. The specifics vary by dish type, but they can all be found in full, here.
Where Can I Eat Fit?
Eat Fit Restaurants can be found all across the city. In 2018, Eat Fit expanded to reach statewide, coming to restaurants in Lafayette, Baton Rouge, the North Shore, and across the Bayou.
In New Orleans alone, there are over 100 establishments that offer Eat Fit options. The restaurants partnering with Eat Fit are some places you might expect (Seed, the Daily Beet); as well as places you may not (we're looking at you, Buds Broilers).
The best part? Eat Fit is not limited to your favorite restaurants. There are cafés, such as Mammoth, Breads on Oak, and PJs. As well as bars and bakeries (1908, Girls Gone Vegan).
With such a plethora of options, you can indulge confidently and cleanly all over town. For the best way to locate an Eat Fit establishment, we recommend the Eat Fit app.
And Speaking of Bakeries…
With carnival time comes King Cake. So to ring in the season, the minds behind Eat Fit came up with something special. This year, they have introduced a seal-approved version of the regional pastry, and it hits all the marks.
Keto-inspired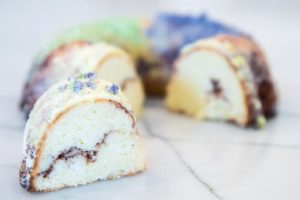 and gluten-free, it features no artificial sweetener and is made with a coconut and almond flour mix.
Like all good King Cakes, it's hard to get a hand on, but worth the search. If dieting was your goal this New Year, keep your eyes peeled for
the little box and you can enjoy King Cake with the rest of us.
Should I Be Eating Fit?
While we can't recommend a diet that works well for everyone, there is wisdom in watching what you eat. There are a multitude of reasons to abide by food restrictions. Whether they be mandatory or self-fulfilling, this program is here to give you options, and tasty ones at that.
Look for the Eat Fit seal across town to enjoy great guilt-free dining options. Don't forget to follow River Beats to stay up with the latest on food culture around New Orleans.
All photos courtesy of Ochsner.org