Fifty-three U.S. tour dates could prove a weary slog for any artists, particularly those that tour constantly already. Maybe the same could be said for Space Jesus, and his bass disciples (Of the Trees, Huxley Anne, Buku) if they weren't having so much damn fun onstage.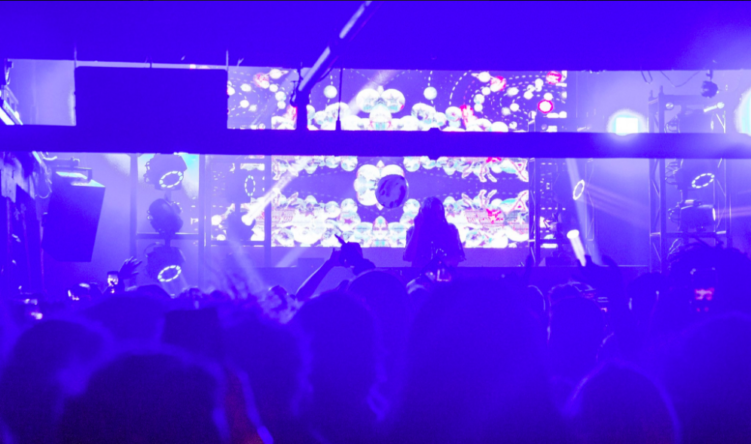 By 3 A.M., the sold-out New Orleans stop at Republic NOLA was a bona fide home-run derby. Every artist, (including Space Jesus/G Jones manager Tha Magistrate) jumped on the decks to play one seismic hit after another back-to-back. Princess Nokia's sassy "that girl is a tomboy!!" got thrown into the mix, Peekaboo's "Arrival" rattled the walls. Of the Trees asked the crowd if anyone happened to like Louisiana's own Boogie T as they weaved in his tough-as-nails track "Ain't Safe."
Early call or not, that wild tag-team segment could end up being one of our favorite live moments of 2019. It was relentless.
That's not to say anything less of the individual sets. One of the most entertaining aspects of the night was hearing how distinct each artist's production style is in this talented caravan of DJ's. Their influences and track selections are too far-flung and too strange to be cleanly categorized as your average dubstep, and that's a godsend.
On their first stop at Atlanta's Variety Playhouse last week, the Noom crew proved this, as they dove into their own electronic pleasures by playing special "ALT" DJ sets. Of the Trees played deep dub, Huxley Anne highlighted the abstractness of her fellow Los Angeles beatsmiths, Buku went full-on techno, and Space Jesus centered on "love songs," playing artists as surprising as English singer-songwriter James Blake.
It's in this writer's opinion, you can hear these influences spliced into the sonic DNA of the artists' best songs, and this was no exception in New Orleans.
Tha Magistrate
Tha Magistrate was only added to the lineup a few hours beforehand as the first set of the night. But, that didn't stop him from quickly punching the crowd into high gear with an evil selection of deep dub cuts that sounded right at home with the Deep, Dark and Dangerous label. Other favorites included a new Shlump ID, Meek Mill's "Tic Tac Toe", and Bleep Bloop's rowdy hit "K-9 Unit." At midnight, a birthday cake was presented to Tha Magistrate on behalf of the crew and artists.
Huxley Anne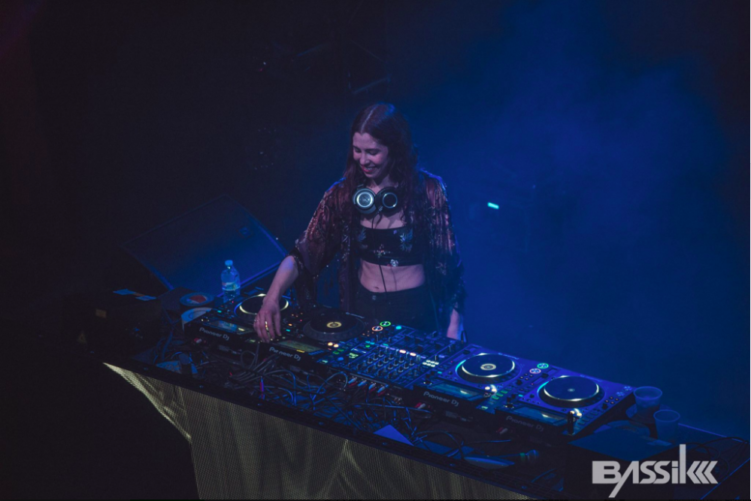 Huxley Anne is so electrifying onstage, dancing wildly over her left-field bass tracks. She seamlessly mixed in The Carters' "APES**T" while smiling wickedly over blistering halftime cuts. Huxley doesn't deserve to be pigeonholed by tired discussions of promising female DJ's; but she's also proud of her role, getting on mic to dedicate songs to the ladies in the crowd. A new song played near the end, which Huxley called the product of trying to make the "heaviest sounds imaginable," and we can't stop thinking about it. Keep a close eye on her this year.
Of the Trees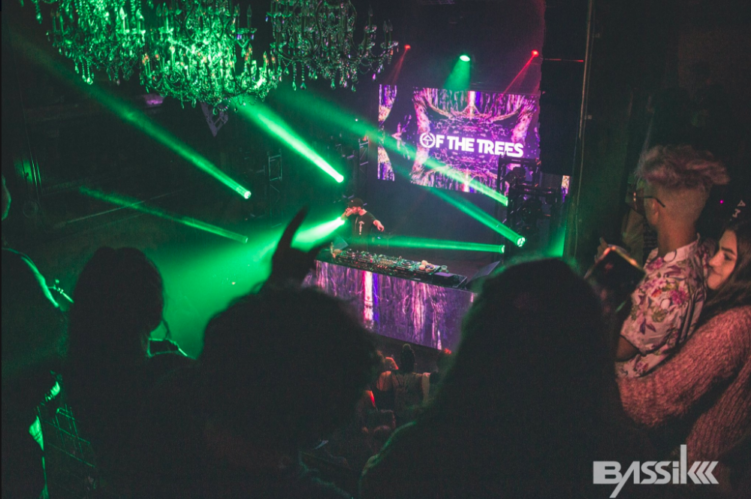 Of the Trees was up next, opening with his sweeping "Everglade March" from last year's wonderful Harvest EP. His sound is punchy, fluid, and enveloping, striking a wonderful balance between melodic and low-end ferocious. His knockouts included his remix of Guccimen's "Pnoid," unreleased songs made with Esseks and Freddy Todd, and his own punishing "Our Hero Returns Pt. 3." One of the freshest artists on this roster, to be sure.
Buku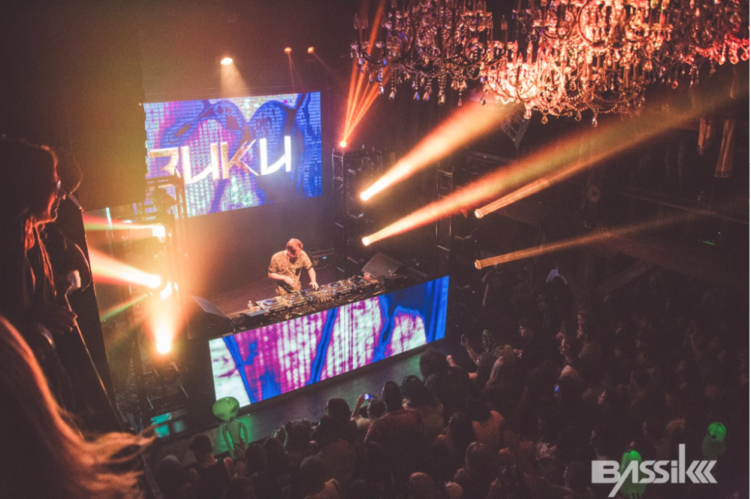 Buku was the only artist I've never had the fortune of seeing beforehand, and I will never make that mistake again. What a demon on the decks. He played out new remixes of the Funk Hunters' "Come My Way," and Alexander Lewis's "Wassup." He showcased a technical, glitchy style that I absolutely love. G Jones thundering "In Your Head" worked its way into his set, a careful nod to his peer and collaborator. The synth-laden hit "Front to Back" rounded out an hour of heavy Buku goodness.
Space Jesus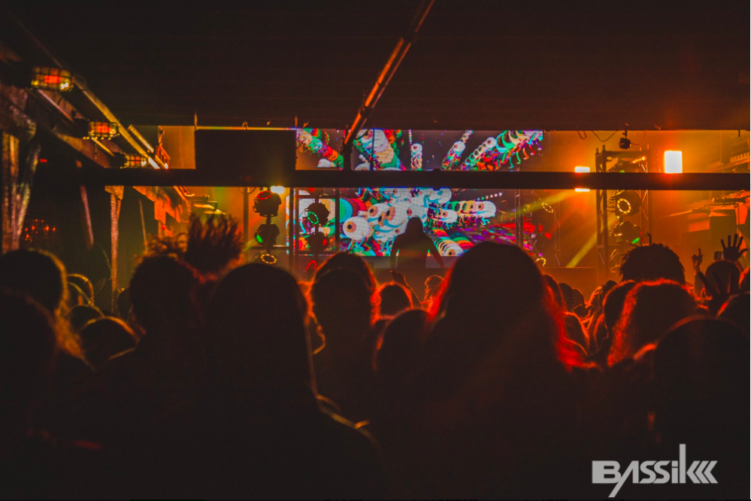 Space Jesus finally came onstage to Frank Sinatra's "Fly Me to the Moon," ripped his beanie off to let his black mane flow, and launched into my favorite song released last year: "Professor Genius" with Esseks. The subs rang louder than they had all night, the lights went haywire, and each song visibly rippled through the impossibly dense crowd.
Mr. Jasha Tull played everything and then some, dotting a constellation of fan favorites "Nawledge," "Dragonhawks" and "Sofa Surfin,'" with Liquid Stranger, and the forever unreleased "Space Jam" remix. At the turn of 2019, he's playing so much killer new material, as well. A ridiculously warped remix of Peekaboo's "Babatunde" here, a wonky collab with Charlesthefirst there, halfway through his show I could see his fans as thrilled as I was.
More exciting still, there were some brand new knockouts, likely from his forthcoming "Autonaut" EP. In between his silky smooth mixing, Space Jesus took to the mic to announce a wonderfully nasty original about driving his dad's car called "Driver's Ed," later a pretty melodic tune about crab fishing with his grandpa. This material sounds so freeform and distinct compared to anything else we've heard from Space Jesus, and we can't wait to get our hands on it.
My favorite song out of the entire night was a stunning song with Brooklyn rapper Shape, that premiered during Space Jesus's New Year's Eve event in Chicago. The enigmatic rapper rhymes, "saving something later for a rainy day, I'm just trying to build an altar, you can come and pray," over a blissful boom-bap beat. Sounds exactly like what Space Jesus is about to do in this new year.
Final words about the Temple of Noom
Go see this tour. Go see it even if you've seen every artist before and think you have their music figured out. See it especially if you think dubstep is played out and you need to be proven wrong. The energy and enthusiasm blasting through this new stage setup was enough to keep us surprised for over five hours of mayhem. Every artist showcased original, forward-thinking bass music, but twice as important was how enthusiastic they were to be playing them. With Sayer, Toadface, and Eazybaked joining later on the tour, you really have no excuse.