There's never a shortage of good music going around Nola.
This weekend, local funk-rock group eyope released their debut album. The band celebrated with a record release party Friday night at the Maple Leaf Bar. The debut album Elevation showcases the group's "Avant groove" sound, complete with New Orleans soul and, of course, our signature brass sound.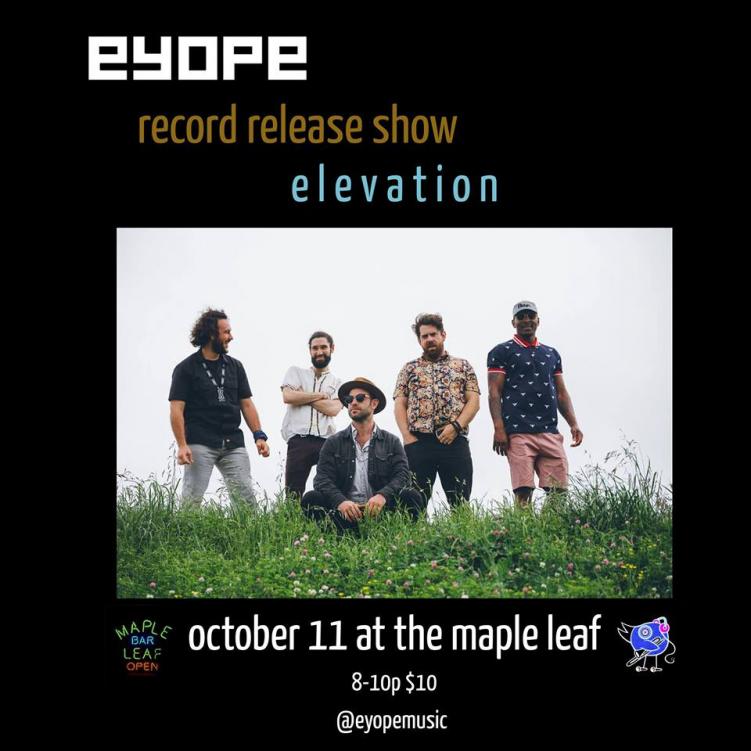 Eyope features Evan Oberla on vocals, keys, and trombone, Mitchell Deitrick on bass, Peter Varnado on drums, George Wilde on guitar, Sam Fribush on organ / synth, and Ari Kohn rounding out the sound with sax, flute, and percussion. The album Elevate was engineered and produced by Andrew Block at local studio Neutral Sound.
An acronym for "Elevate. Your. Own. Personal. Expression," Oberla can trace the origins of this music back to when he first moved to New Orleans five years ago.
"In New Orleans, we are below sea level, our geographical elevation, yet our hearts here sing high past the sky. The record tells a story, and my hope is that it will touch you in a way that is meaningful to you in your life." – Evan Oberla
The group played an energetic and uplifting show to a bustling Maple Leaf bar last night. They played a majority of their new songs from Elevation and showcased their ability to stay connected to each other while riding off the energy of the music.
Oberla reports that new music will come out sooner rather than later, and to keep your eyes out for upcoming shows.
Stream eyope's newest album Elevation now
---
---
Follow River Beats New Orleans to stay up to date on all your favorite Music in the city.