Free Nationals are performing a SOLD OUT show at the Three Keys tonight.
---
I'm not sure how many benefit concerts end up with a completely sold-out show. But I can't say I expected anything different when I heard Free Nationals were on the bill.
Tomorrow night, the funk and R&B group is playing a show at the Three Keys in support of Upbeat Academy. The show's completely sold out, so hopefully, you've snagged a few tickets or plan to get really close to the door guy.
Previously known as Anderson .Paak's live band, Free Nationals have been making a name for themselves since their debut album last year. Having already graced the stage with Beyoncé, J. Cole and Bruno Mars, it's hard to believe the band only has one album of their own.
But 2019's Free Nationals is a star-studded compilation of soul-infused tracks. Kali Uchis, Mac Miller and Unknown Mortal Orchestra are just a few of the names scattered through the tracklist.
A portion of all the ticket sales for the upcoming show will go to benefit the Upbeat Academy Foundation. Formed in 2013, Upbeat Academy is a Louisiana non-profit corporation formed by a band of Winter Circle Productions members.
The group works to provide children with an educational, after-school music program. They teach students how to produce and perform hip-hop and electronic dance music. Local DJs and producers hold daily classes in the Upbeat Studio where students have access to the latest music production software. They also seek to introduce students to the business side of the music industry, offering real-life experience, and opportunities for the kids to meet their favorite musicians.
Spend a night with Free Nationals as you benefit a local nonprofit, and dance the night away!
The Free Nationals show starts at 8 pm at the Three Keys.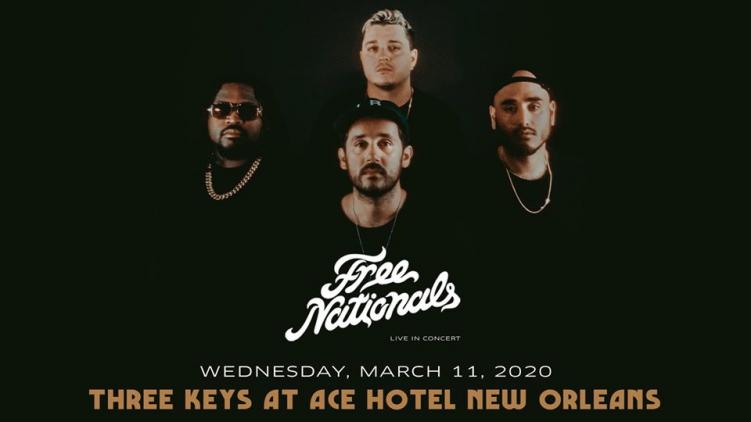 ---
Follow River Beats New Orleans to stay up to date on events in New Orleans
Featured Image via Free Nationals