Rüfüs Du Sol returns to New Orleans with Crooked Colours this week. Get tickets here.
---
Just in case you missed it, Australian electro-indie power group Rüfüs Du Sol is returning to New Orleans this week. This time performing at the Orpheum Theater with Crooked Colours, it's a show you won't want to miss.
Once Aussie heroes and now a global phenomenon, Rüfüs Du Sol has won the world over with their trio of platinum-certified, perfectly danceable albums.
The three-piece returns to New Orleans after their last performance at the Joy Theatre last summer completely sold out. Their July performance spanned across the many vocal house hits both from their latest album Solace and from the groundbreaking Bloom from 2016. They even threw in some older tracks from their debut album.
It was a sing-along, dance-inducing spectacle that had the entire theater up on their feet.
Their Joy performance came shortly after their slot at the 2018 Voodoo Music + Arts Festival. Big Rufus fans were hungry for more. The tiny South Course stage didn't do their big, melodic house sound much justice.
Since then, Tyrone, Jon, and James have been busy becoming superstars. Their latest album won the ARIA (Australian Recording Industry Association) Award for a best dance release. They also just released a live album and accompanying short film of a live set in Joshua Tree, California.
But it's not just Rüfüs we're excited for, joining them is another blooming Australian trio, Crooked Colours. Their most recent album, Langata caught our ears with infectious singles like "Do It Like You."
Crooked Colours and Rüfüs Du Sol perform tonight, March 11th, at the Orpheum Theater. Bring your dancing shoes with you, New Orleans. We're about to get down!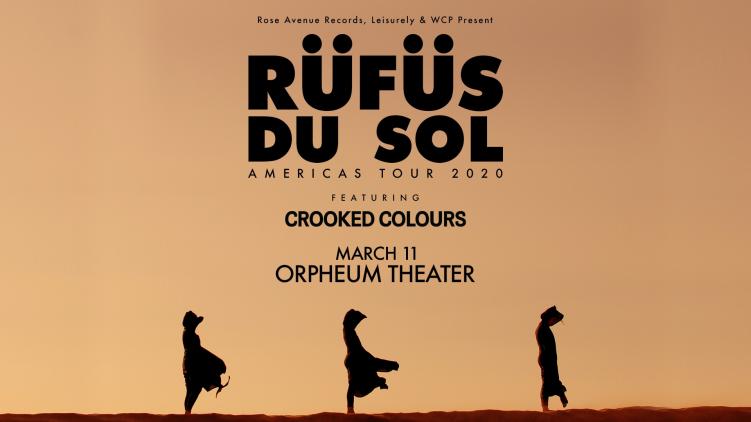 ---
Follow River Beats New Orleans to stay up to date on events in New Orleans
Featured Image via Rufus Du Sol