Paul Prudhomme and George Rodrigue share a common history as Louisiana creatives. Prudhomme was a native of Opelousas who served tastes of his heritage through cuisine like blackened redfish. Rodrigue hailed from New Iberia and painted scenes from his Cajun upbringing, like the famous Blue Dog.
Respectively, both Rodrigue & Purdhomme are Acadiana legends who spread their culture until their deaths in 2013 and 2015. Ironically, it was the death of this culture that they set out to prevent by capturing it through food and art. On account of this shared connection, The George Rodrigue Art Foundation is hosting a tribute to Chef Paul Prudhomme in a true New Orleans dinner club fashion.

Read on for details about the Aioli Dinner Supper Club.
A Dinner Club for A Good Cause
In honor of Chef Paul, the George Rodrigue Art Foundation (GRAF) is hosting the Aioli Dinner Supper Club. The event features Chefs Dickie Brennan, Morgan Landry (of Prudhomme's Magic Seasoning Blends), and Frank Brigsten. With partnership from the New Orleans Culinary and Hospitality Institute (NOCHI), the night will bring together local flavor-makers with excited eaters. In addition to good food, the dinner is also for a great cause. All proceeds from the dinner club event go towards the arts in education programming for the GRAF.
So, get the details of eating well for charity by reading on.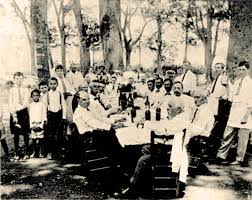 The Aioli Dinner Supper Club
The Aioli Dinner Supper Club didn't get its name from the garlic butter sauce of the Mediterranean. Instead, the name for this specific gathering comes from one of George Rodrigue's most famous Cajun paintings, Aioli Dinner. The painting, and the dinner event series that followed, are modeled from Creole gourmet societies of the late nineteenth century. The primarily French gourmet societies would hold outdoor meals, cultivating what was and would become Creole cuisine. The George Rodrigue Art Foundation regularly gathers for fundraiser events called the Aioli Dinner Supper Clubs. As a way to revisit Cajun history and heritage, these evenings offer elevated South Louisiana fare and awareness of the Art Foundation's mission to educate young artists.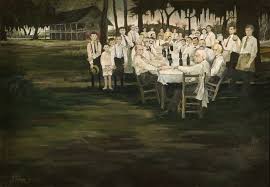 When Rodrigue created Aioli Dinner in 1971, it was his first landscape that featured people, and he filled it with faces of his family– and himself. After time spent hanging all over Louisiana, it is regarded as a Cajun classic. Fortunately, it wouldn't be the last portrait that Rodrigue painted. George would go on to create more personal portraits in his unique style, including one of his old friend, Chef Paul Prudhomme.
Prudhomme's Legacy
Chef Paul Prudhomme's impact on the culinary field is immeasurable. He brought Creole food to a world that was mostly unaware of its flavors. In fact, Rodrigue himself once stated:
"It was Paul who introduced the Cajun culture to the world.

– George Rodrigue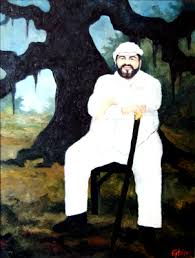 Chef Paul's restaurant K-Paul's Louisiana Kitchen opened in 1979. First came the success of the restaurant, then it was cookbooks, and seasoning brands which took Prudhomme around the globe: an ambassador of Cajun country. No matter where he was in the world, Paul Prudhomme's heart was always in his restaurant. He was active in operating K-Paul's until the day he died in 2015. Prior to K-Pauls, Chef was the first American to helm the kitchen at Commander's Palace. As a pioneer of Louisiana cuisine, it's hardly serendipitous that Prudhomme is being honored by a dinner club and several chefs who've long since continued making space at the table for Creole food.
Event Details
The Aioli Dinner Supper Club takes place this Thursday, March 12th at 6:30P. The dinner takes place at the New Orleans Culinary & Hospitality Institute. Three guests chefs are creating dishes in Prudhomme's influence. Attendees can taste food from Dickie Brennan of the Commanders Family, or Morgan Landry, the Research & Development Chef of Prudhomme's Magic Seasoning Blend. Third is Chef Frank Brigtsen, an apprentice of Chef Paul and a James Beard winner who has reimagined Acadiana cuisine since 1986.
Proceeds from the event are presented to the arts in education programs of the George Rodrigue Art Foundation. Programming from the Foundation is responsible for scholarships like The Art Of Sound, as well as other services for young artists. Get tickets for the fundraiser here.