There are 73 neighborhoods in New Orleans. 73 neighborhoods across less than 170 square miles of land, and each one has its own special New Orleans flavor.
So, you can imagine my disappointment when all my visiting friends and family want to spend their entire visit within one, 13-block square of the city. Now, I love the French Quarter. It's beautiful, historic, lively and very New Orleans, and I'll happily show you around when you come to visit! But honestly, I can show you the best of the French Quarter in a day.
That still gives us the entire rest of the city to explore!
Obviously, there's much more to this city than I could put in one piece for you. So today we're focusing on the Marigny/Bywater area. Originally settled in 1806, this part of the city now has a vibrant arts scene, colorful street art, trendy eateries and has previously been described as hipsterrific.
Plus, it's still close enough to the French Quarter that you can hop over and get your fix of Bourbon Street and oyster-themed souveniers if you so desperately please.
A Day in the Marigny / Bywater
Start an easy morning at Flora Gallery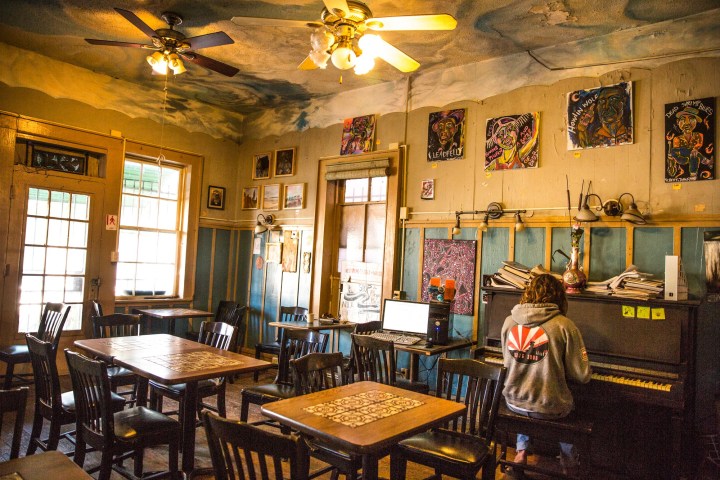 Local, rustic art gallery meets coffee shop at this hipster hideaway. You'll know you're there when you have to fight through the overgrown brush and coffee drinkers mingling outside. The walls are an ever-changing display of local artists. You may hear someone tinkling at the piano while you enjoy a Pemesto bagel or a fresh slice of tiramisu. Chat with the local working on his virtual-reality screenplay sitting nearby. He may have some great suggestions on where to go next.
Location: 2600 Royal St.
Hours: 7:30 AM – 12 AM
Take a walk through Crescent City Park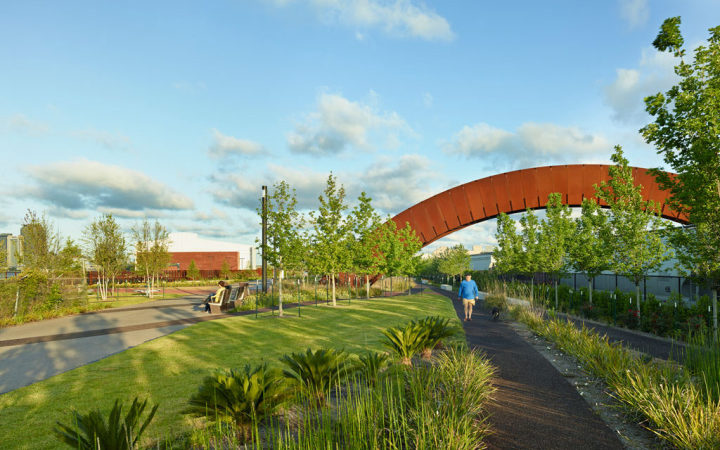 Take your java to-go and walk along the Mississippi River through Crescent City Park. You'll get to see the city skyline from its best vantage point. Look for the peak of the iconic Jackson Square across the river. Relax in the grass and watch the steamboats go by. Relish in this rest for your feet. You have quite a bit of walking ahead of you today.
Location: Cres Park Trail
Hours: 6 AM – 7:30 PM (or whenever the sun sets)
Dig for gold at Euclid Records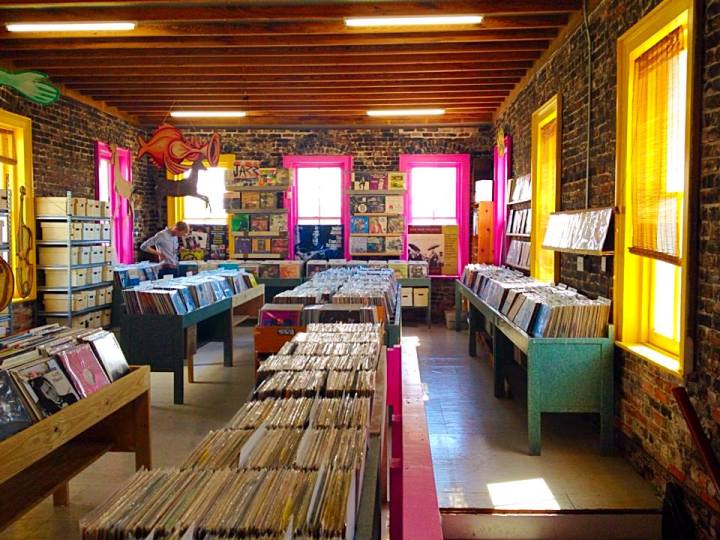 A block off the park is Euclid Records – an independent music shop. If you're lucky you may stumble in to one of the free shows they occasionally host. Browse through their selection of local jazz and blues music in the cozy, brick lined shop. Hopefully you're staying nearby so you can offload your treasured finds to your AirBnb.
Location: 3301 Chartres St.
Hours: 11 AM – 7 PM
Explore the Music Box Village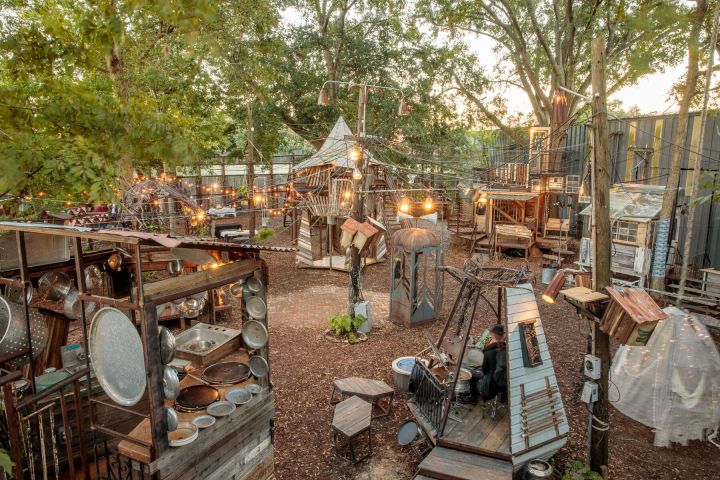 Located a mile away from the record store – this is your longest trek of the day – but REST ASSURED, it's totally worth it. The Music Box Village is unlike anything you've ever seen. It's a living sound garden hidden near the train tracks. With an unassuming exterior surrounded by loose sheet metal, you'll probably hear it before you notice it.
Around the corner and in to the village, every handmade structure doubles as a musical instrument. Elevators are harpsichords and tattered balconies are drum-kits. Make sure to step in the telephone booth and pick up the phone – and make a donation to the artists who run the space.
Location: 4557 N. Rampart St.
Hours: *only open Sat & Sun* 12 PM – 6 PM
Take a load off at Bacchanal wine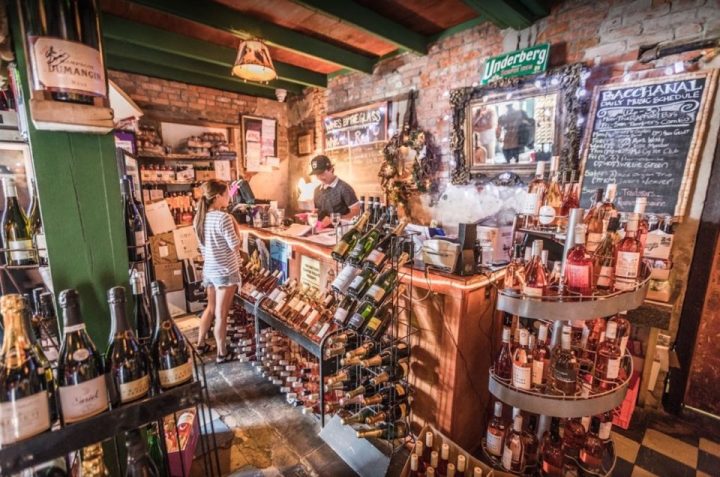 You've had a big day already! Time to relax and grab a drink, ya? Luckily this backyard bistro is just a hop away from the Music Box Village. Bacchanal is New Orleans' favorite self-serve wine garden. You walk in the quaint and tattered corner stop to a cozy wine cellar. You can order by the glass, or pick from their global bottle selection.
Select from specialty cheeses and meats, hand them to the kitchen, and wait for your custom charcuterie board to be delivered to your table. Take your libations to the backyard, and relax on the lush back patio. And – obviously – there will be live music. Where did you think you were anyways?
Location: 600 Poland Ave.
Hours: 11 AM – 12 AM
Connect to New Orleans at Studio Be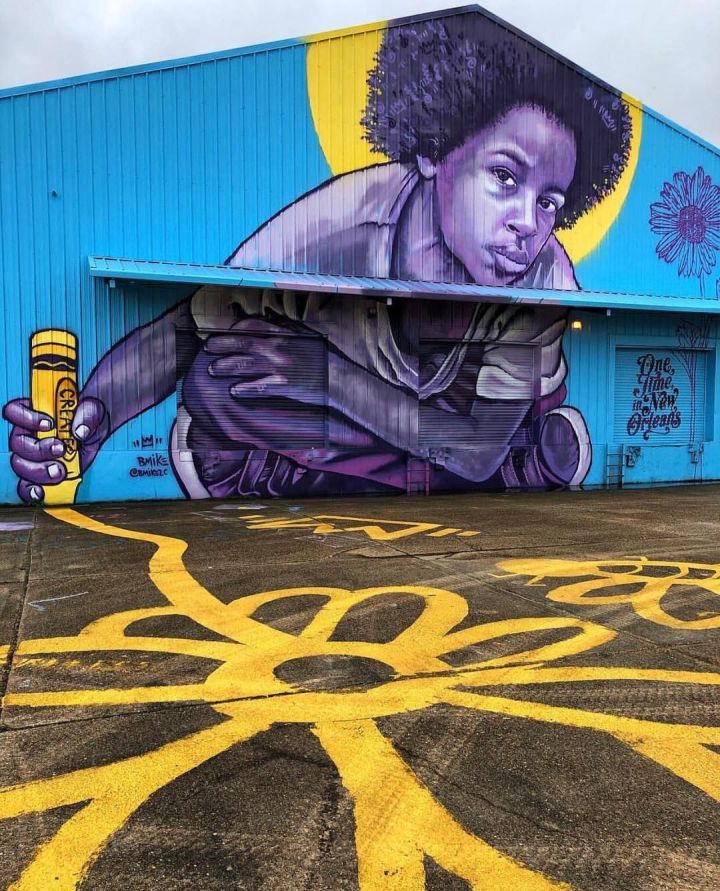 Making our way back in to the Marigny, Studio Be is a great stop for art aficionados and those interested in connecting with the heart and soul of New Orleans. Street artist turned gallery owner BMike rose to fame for transforming neglected, urban spaces in to celebratory pieces of art. Studio BE is a 35,000 sq. ft. warehouse showcasing the artist's first solo show.
After Hurricane Katrina, his empowering images showcased the people of New Orleans and their resilience when they needed it most.
Location: 2941 Royal St.
Hours: *Wed – Sat* 2 PM – 8 PM
Step back in time to N7 for dinner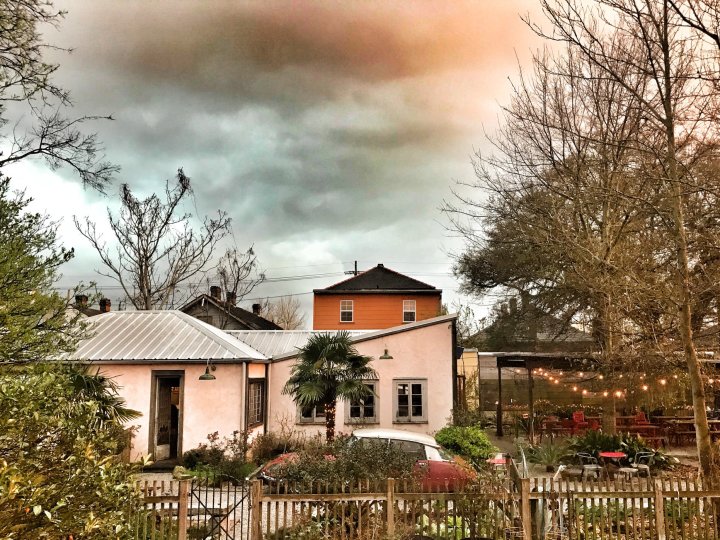 Finally – dinner time! Which, in a city like New Orleans, can sometimes be a crippling decision. Luckily, if you make your way four blocks up to St. Claude Ave., you'll have plenty to choose from. My recommendation? The French / Japanese tapas servings of N7. Bon Appétit Magazine recognized it as one of the best new restaurants in America, and called it "part roadside wine bar, part living movie."
The wait can get a bit hefty on the weekends, so bonus travelers points if you can time your meal during off-peak hours.
Location: 1117 Montegut St.
Hours: 5:30 PM – 10 PM
End your night (and start your morning) on Frenchmen Street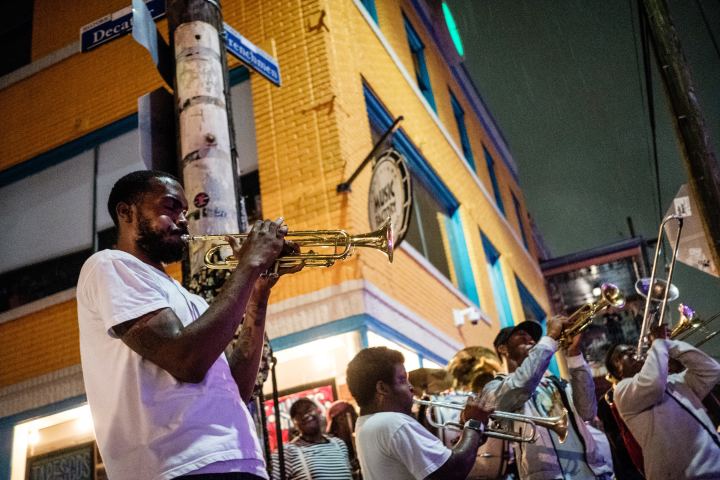 Now you're full, happy and let's be honest, probably a little wine-drunk. It's the perfect time to go dancing! The heart of the Marigny – the famous Frenchmen St. – is a five minute Uber ride away.
You could dance all night long, as the party spills in to the streets and fills the humid New Orleans air. There really isn't a bad spot on Frenchmen, but if you ask me, Snug Harbor Jazz Bistro is the place to be. It's intimate live jazz in a renovated 1800's store-front.
You can dance until the soft hours of the dawn until you collapse – exhausted and exuberant – with the life of New Orleans still buzzing in your bones.
Now, aren't you glad you ventured outside the French Quarter?
Location: 626 Frenchmen St.
Hours: 5 PM – 11:45 PM
Follow River Beats New Orleans to stay up to date on everything in New Orleans