"Alone together" – that's the theme of the 2021 GrfA Art and songwriting contest. The local scholarship foundation is looking for students to reflect and explore their thoughts on this difficult year, and create works of art and music inspired by their reflections.
Open to Louisiana high school juniors and seniors, the foundation will award 10 young artists and three songwriters with $25,000 in college scholarships. This is the second year for the songwriting contest, which is in partnership with the Trombone Shorty Foundation.
The young artists are asked to consider both how disaster & disease have shaped art throughout history, and how their life has changed as a result of COVID-19.
"Throughout his life, my Dad responded to obstacles by creating art," says Jacques Rodrigue, GRFA's Executive Director. "This year's visual art and songwriting contest entries will serve as a touchstone for the future, showcasing how so many Louisiana students overcame challenges faced during this difficult year."
"We hope this contest can bring students together through art and song and help rebuild a sense of community that's been missing during the pandemic."

GRFA Executive Director, Jacques Rodrigue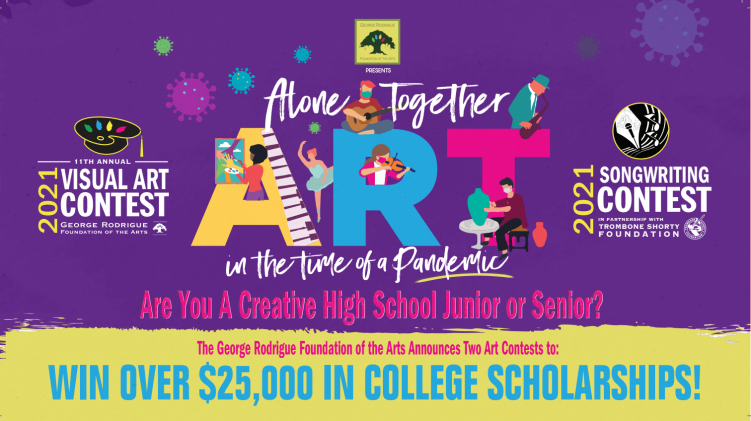 Artists and songwriters can now submit their original artwork or song/lyrics at https://georgerodriguefoundation.org/. Deadline for entry submission is Friday, February 26, 2021. Due to Covid-19 restrictions and the safety of all students, the 2021 Awards Ceremony will take place virtually.
For more information about the GRFA Art and Songwriting Contest, including submission criteria visit their website.
Follow River Beats New Orleans to stay up to date on your favorite events IN NEW ORLEANS.
---