If you're off for the day on Monday, November 11 for Veterans Day, make your way to Lakeview for the new spot Junior's on Harrison! We've been covering the opening of this restaurant pretty extensively for a handful of reasons: the menu looks phenomenal, the space is fantastic, and Lakeview doesn't get enough love.
Last week, we were invited to check out some of the top selections from their menu, both food, and cocktails. And to be honest, everything that we devoured within seconds of it being placed on the table was absolutely delicious.
Their menu (pictured below) focuses primarily on small plates and things that can be shared with the table. Menu prices range from $6-$19, with the more expensive leaning towards the Big Plates including the Steak Frites. Other entree-like options include a double patty or single patty burger, Country Fried Rib (amazing!!), and the Rock Shrimp Tacos. Desserts feature deliciously creamy Gail's Fine Ice Cream and Gail's Float.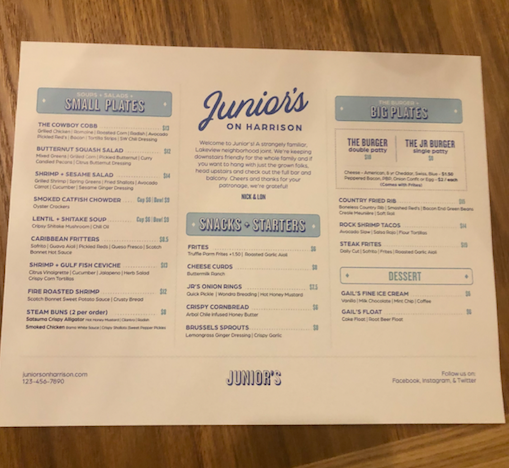 The two-story restaurant features the main dining area and a bar downstairs. Upstairs includes another bar, dining area, and wrap-around patio. Monday-Friday until 4 pm, the upstairs area is open to all ages. After 4 pm, only 21+ up is allowed, acting as a nice little reprieve for those looking to decompress and enjoy some amazing food. On Saturday and Sunday, the upstairs is 21+ all day.
Give them a "like" on Facebook to stay up-to-date on all their happenings. And you'll definitely want to add this spot to your "must-try" list.
Check out some of our other photos from the evening below.