Tickets for the LSDREAM at the Joy Theater in New Orleans on November 11, 2023, will be available starting June 16. Grab tickets HERE
---
Prepare to be transported into a world of auditory and visual bliss as LSDREAM announces his highly anticipated "Radical Audio Visual Experience Tour." The tour promises to be a groundbreaking spectacle, combining mesmerizing visuals, electrifying lights, and mind-altering sounds. The tour is set to take over the New Orleans dance scene at the Joy Theater on November 11, 2023.
LSDREAM's Radical Audio Visual Experience Tour is not merely a concert; "it is a transformative journey designed to transport the audience to new dimensions of sonic and visual exploration" The tour kicks off with a sold-out headline show at the iconic Red Rocks Amphitheatre on October 12th.
An All-Star Lineup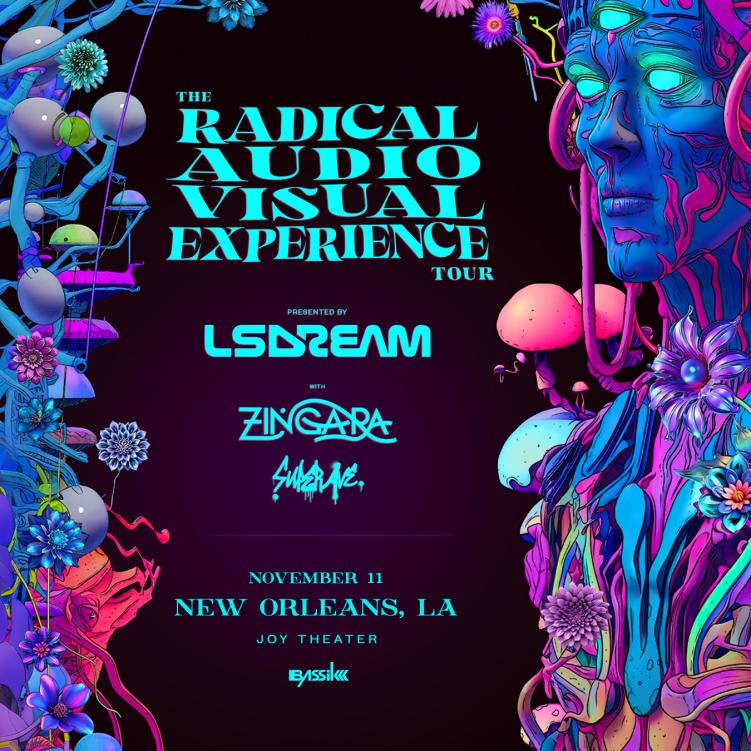 Joining LSDREAM on this groundbreaking tour is Zingara, who will accompany LSDREAM as direct support throughout the entire tour. Additionally, fans can expect special appearances from artists such as Elephant Heart, Equanimous, LYNY, Xotix, Black Carl!, SuperAve., Super Future, Chmura, Milao, and LaBrat on select dates. The tour will also feature the remarkable INZO as a special guest on specific shows.
An Expression of Joy and Freedom
LSDREAM, known for his profound connection to the rave culture, intends to create a live show experience that pays homage to the essence of what rave culture represents. LSDREAM aims to transport the audience through various genres and energies, delivering moments of intense sensory overload and breathtaking cinematic beauty. By combining cutting-edge production, captivating lighting, lasers, and stunning visuals, LSDREAM's R.A.V.E. tour promises to be a celebration of joy, self-expression, and the exploration of limitless possibilities.
The Joy Theater
New Orleans, a city renowned for its vibrant music scene and rich cultural heritage, will host LSDREAM's Radical Audio Visual Experience Tour at the esteemed Joy Theater. The historic venue, known for its impeccable acoustics and intimate setting, will provide the perfect backdrop for an immersive and unforgettable night of musical magic.
Tickets for LSDREAM at the Joy Theater in New Orleans on November 11, 2023, will be available starting June 16. Grab tickets HERE