Animals As Leaders will descend on The House of Blues in New Orleans this week! Grab your tickets here.
---
Get ready for a mind-bending evening of progressive metal when Animals as Leaders takes the stage at the iconic House of Blues in New Orleans. Hailing from Washington, D.C., Animals as Leaders has carved out a unique niche in the metal world, incorporating elements of progressive rock, jazz fusion, funk, and electronica into their sound. Known as one of the prominent bands within the djent scene, they have established themselves as true pioneers of the genre.
The band's formation is traced back to the disbandment of guitarist Tosin Abasi's previous metalcore group, Reflux. Recognizing Abasi's extraordinary guitar work, the renowned heavy metal record label Prosthetic Records approached him to create a solo album. Initially hesitant, Abasi took a year to further his music education before diving into the project.
In 2009, Animals as Leaders released their eponymous debut album, showcasing Abasi's exceptional guitar and bass skills. The record featured contributions from engineer Misha Mansoor of the pioneering djent metal band Periphery, who added guitar solos, drums, and synthesized effects. Since then, the band has unleashed their creative prowess through albums like Weightless (2011), The Joy of Motion (2014), The Madness of Many (2016), and their most recent release, Parrhesia (2022).
Animals as Leaders in New Orleans
As part of their highly anticipated summer tour, Animals as Leaders will be gracing the House of Blues stage in New Orleans on Monday, June 19. This lineup promises an unforgettable night of virtuosic performances and awe-inspiring musical journeys.
Don't miss out on the opportunity to witness the instrumental prowess and genre-defying music of Animals as Leaders live in concert. Secure your tickets now and mark your calendars to experience the progressive metal brilliance that will surely captivate and inspire fans old and new. Tickets are on sale now. General admission tickets start at $29 each.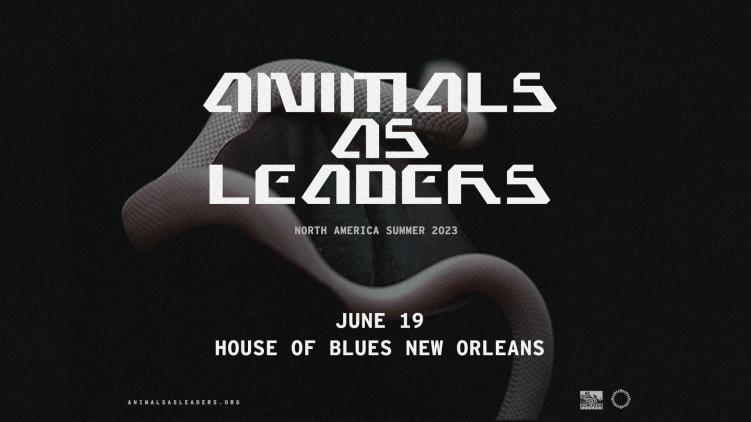 ---
Doors: 7:00 PM | House of Blues New Orleans | Monday, June 19, 2023
---
This editorial is Supported By Live Nation. Supported by is an advertorial series used to describe editorially independent River Beats content that is supported by a client's advertising spend.