Lucy Dacus is headlining at Civic Theatre in New Orleans on October 12. Grab your tickets to the show here.
---
Many know Lucy Dacus for her honest, biographical songwriting. The 27-year-old indie singer is being credited as one of the best songwriters of her generation, and for good reason. Fans can see Lucy Dacus perform at Civic Theatre along with Crooks & Nannies in New Orleans on October 12.
Dacus just released her third successful album, Home Video, last year and is currently on an extended leg of fall tour dates. On Home Video, she showcases her ability to use the personal as a gateway to the universal. Her guitar-centered indie rock sound, grounded by her wistful yet down-to-earth vocals, sparkles with slow-burning wit. Home Video was named a top 10 album of 2021 by NPR Music, SPIN, USA Today, Rolling Stone, The New York Times, and many more.
Lucy Dacus at Civic Theatre
On her latest tour extension, the Virginia native will perform songs from Home Video like "Triple Dog Dare," along with the recent single "Kissing Lessons," fan favorite "Nightshift," and even a Carole King cover. Civic Theatre seems like the perfect venue for Dacus, too. Fans will have the option to sit on the balcony to be enraptured by her lyrics. Otherwise, they can crowd down into the pit to dance along to raucous tracks like "VBS."
For her tour stop in New Orleans, Dacus is joined by Crooks & Nannies. A collaboration between multi-instrumentalists Sam Huntington and Madel Rafter, the duo's signature blend of brash, confessional indie rock alternates between painfully tender and jarringly odd.
Don't miss Lucy Dacus in New Orleans at Civic Theatre on Wednesday, October 12. Tickets start at $26 for general admission seats.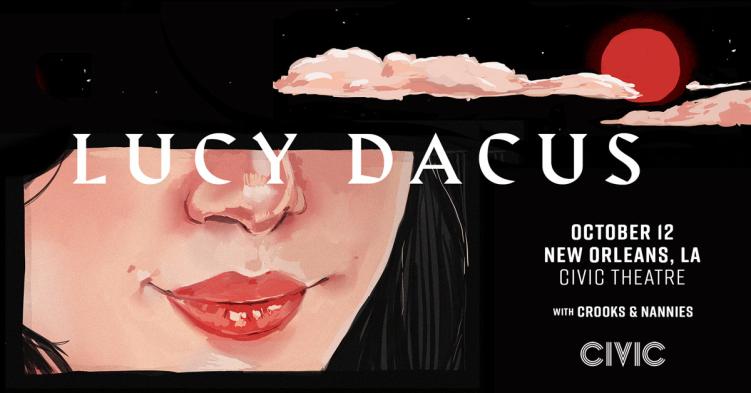 ---
Doors: 8 PM | Civic Theatre | Wed. October 12, 2022
---
This editorial is Supported By The Civic Theatre. Supported by is an advertorial series used to describe editorially independent River Beats content that is supported by a client's advertising spend.