Don't miss your chance to experience the unique sound of Molchat Doma at the House of Blues in New Orleans. Doors: 7 PM | House of Blues | April 25, 2023.
---
Get ready to dance to the dark and brooding sounds of Molchat Doma. The Belarusian dark-wave band will make their way to New Orleans later this month as part of their extensive 2023 North American tour. Fans of The Cure, minimal goth, and Wednesday Addams dance trends won't want to miss these up-and-comers.
Formed in Minsk in 2017, Molchat Doma has quickly gained international recognition for its unique sound, which draws heavily from the goth and new-wave pioneers of the 1980s. Led by the eerie, disembodied vocals of Egor Shkutko, Molchat Doma's music is often clouded in reverb and a sense of danceable apathy. The band has cited Kino, a notable Russian rock band from the Perestroika era, as one of their main influences, along with Joy Division and The Cure.
The band's first two albums, self-released in 2017 and 2018, seeped across the internet through Bandcamp and YouTube. By the end of 2019, their album Этажи (English: Etazhi) gained roughly two million new listeners. Their popularity skyrocketed in 2020, thanks to the song "Судно (Борис Рыжий)" or "Sudno", which gained massive traction on TikTok. The track climaxed at No. 2 on the Spotify worldwide Viral 50 chart.
After gaining popularity worldwide, they signed to American independent label Sacred Bones Records in 2020, which reissued their albums, marking their first releases in North America. They released their third studio album, Monument (Монумент), with Sacred Bones in November 2020.
Molchat Doma in New Orleans
Molchat Doma planned to tour North America for the first time back in 2020, but the tour dates were canceled once the COVID-19 pandemic hit. Their current North American tour is a big one, spanning 35 cities in less than two months. Luckily for us, they're playing the House of Blues later this month on April 25. Special guests Nuovo Testamento are also on the bill.
Tickets for Molchat Doma at the House of Blues New Orleans are on sale now. Tickets start at $32.50 with balcony seating available for $80+.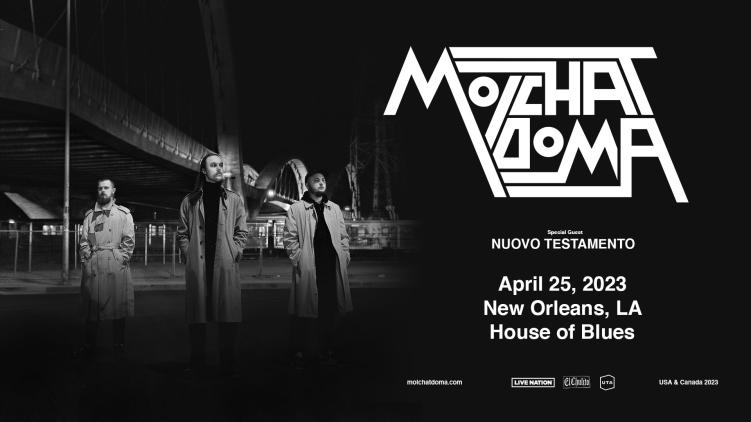 ---
Doors: 7 PM | House of Blues | April 25, 2023
---
This editorial is Supported By Live Nation. Supported by is an advertorial series used to describe editorially independent River Beats content supported by a client's advertising spend.