Lamorn is an up-and-comer, and you don't want to miss his debut album tour in New Orleans. Doors: 8 PM | Parish at House of Blues | June 23, 2023.
---
Excitement is in the air as Lamorn, the newest mau5trap protegé, is set to perform in New Orleans this summer. This June, he's embarking on his Forever Album Tour to celebrate his artist debut. His upcoming show at the House of Blues allows dance fans to see a prominent artist on the rise.
At just 19 years old, Lamorn has already made a name for himself with his unique sound that combines the thrill of the future with the comfort of nostalgia. His music is warm, exhilarating, and radiant. Thanks to his dedication and innovation, he caught the ear of some big industry names early on.
Like any dance music fan, Lamorn (aka Seth Person) began simply by following artists he enjoyed. Global superstar deadmau5 was one of his favorites. He would tune in to the mau5trap Mondays live stream and submit demos for review. After Lamorn submitted his track "Physical Layer" to the mau5trap demo-critiquing Twitch session, deadmau5 was so impressed that he signed him on the spot. And that's only the beginning.
Since then, Lamorn has won remix competitions, opened for deadmau5 on his 2021 and 2022 tours, and even remixed his and Kiesza's track "Bridged By A Lightwave".
Lamorn in New Orleans
Now Lamorn is gearing up for his debut album Forever, and an accompanying 18-date national US tour. Forever is officially due via mau5trap on June 2 and is set to feature his latest singles along with some unreleased gems that will win over the hearts of his growing fanbase.
For Lamorn, this is just the beginning of what promises to be a long and successful career in the music industry. His talent and hard work have already earned him the recognition he deserves, and it's only a matter of time before he becomes a household name.
Tickets for Lamorn at the House of Blues New Orleans are on sale now. General admission tickets are a tantalizing $12.50. But we reckon tickets to see Lamorn will only rise from here on.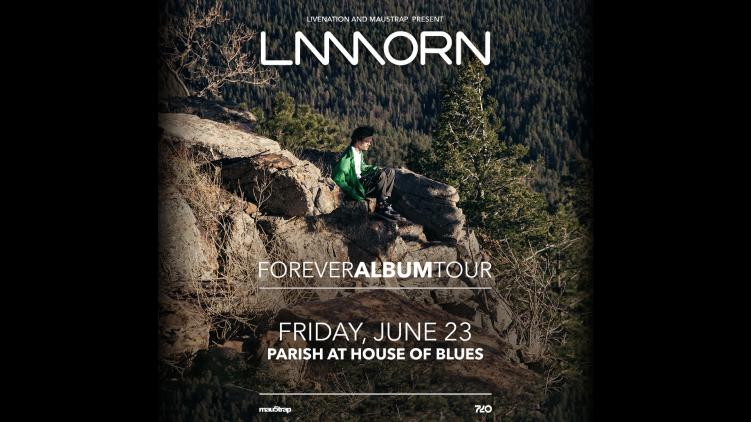 ---
Doors: 8 PM | Paris at House of Blues | June 23, 2023
---
This editorial is Supported By Live Nation. Supported by is an advertorial series used to describe editorially independent River Beats content supported by a client's advertising spend.