Do you identify as a woman? Are you an artist? Then, this call to action is for you. The Helis Foundation, with the Arts Council New Orleans are seeking identifying muralists to submit works to the Unframed 2.0 project. This open call is the second effort of an exciting multi-mural project, one which saw five extraordinary works painted around the Central Business and Warehouse Districts earlier this year.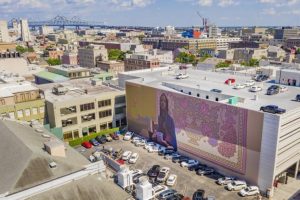 This round, three large scale murals are going up in honor of the 100th anniversary of the 19th Amendment. In further respect to that revolutionary moment, only women artists are considered for this round of commissions.
The three murals will be painted for Spring 2020. They are to be located in Downtown New Orleans, with a concentration around the Arts District.
"The Helis Foundation is committed to providing access to world-class art to all New Orleanians and visitors," says David Kerstein, President of The Helis Foundation. "We are proud of the work we've accomplished with Arts Council New Orleans to not only make Unframed a reality but to also continue adding innovative murals to the streets and public places of New Orleans."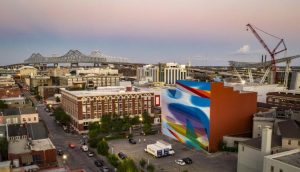 The murals of Unframed 2.0 presented by The Helis Foundation will be selected by a committee of local arts leaders:
Andrea Andersson

,

The Helis Foundation Chief Curator of Visual Arts at the Contemporary Arts Center

Brandan Odums, Artist and Curator of Studio BE
Chris Alfieri, Esq., Arts District New Orleans Resident and President & Board Chair, Prospect New Orleans
Danielle Del Sol, Executive Director, Preservation Resource Center of New Orleans
Leslie-Claire Spillman, Director and Curator at Soren Christensen Gallery and Board Member of Arts District New Orleans
William Andrews, Director of The Ogden Museum of Southern Art
Apply to Unframed 2.0
Visit ArtsNewOrleans.org to apply for the Unframed Call for Artists. The application deadline is November 1. Following review by the Unframed presented by The Helis Foundation Selection Committee, the next round of artist applications will be invited to submit a final mural design for committee review.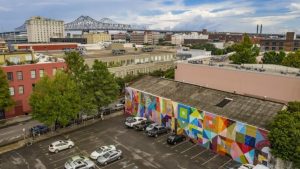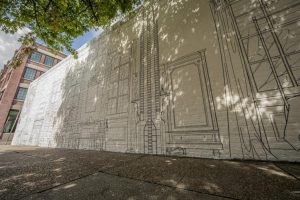 ---
Have some tips on upcoming art events? Email to brich@riverbeats.life
---
Featured Photo By Crista Rock