Boyfriend is taking over The Joy Theater with members of The Revivalists on April 28th in New Orleans! Grab your tickets here.
---
The "campy rap antagonist" known as boyfriend is bringing her futuristic blend of booty bass to the joy theater later this month. The April 28th show is a menagerie of some of New Orleans' best musicians, with members of The Revivalists backing the performance.
Suzannah Powell, better known by her stage name Boyfriend, coined the term "rap cabaret" to describe her performance-centric live shows. For her upcoming performance at the Joy, she's joined by fellow New Orleanians from The Revivalists, Galactic, and Sweet Crude.
River Beats New Orleans got a chance to chat with Boyfriend about her music, her community, and her upcoming show with The Revivalists!
Check out the River Beats Interview with Boyfriend Below
---
RIVER BEATS: Thanks for taking the time to talk to us, Boyfriend! It's been a while since we've heard from you. How have the last two years been for you?
BOYFRIEND: Ups & downs & all around!
RB: You've always been a huge collaborator and communal spirit in New Orleans (congrats on the parade float by the way!) Would you say the local community helped you through the pandemic at all? How so?
B: Absolutely! On a heart level, the city is dealt more than a fair share of pain but also expresses an abundant amount of creative joy, so I do feel we are galvanized by things like storms and violence and the pandemic. While on a global level it further exposed the rampant inequality, I do think the local New Orleanian community stepped up. Organizations like Feed The Second Line, for example, create new models for supporting culture bearers that make New Orleans what it is! On a financial level – there were new support systems created as I mentioned, plus existing organizations like Jazz & Heritage Foundation gave out grants, and my fans who couldn't buy tickets to shows started buying the clothes right out of my closet! (I collect & sell vintage clothes as well as dabble in design! :P)
RB: So I know you have a degree in creative writing, how do you think that background has influenced your songwriting process?
B: Of course! Songwriting is storytelling with a tune.
RB: There are lots of theatrical elements to your live shows, what emotions or energy are you trying to evoke with your performance?
B: For me, it's a way to say visually what the song is saying sonically. Costumes, props & choreography are just as vital narrative tools as words and sounds. So just as the costumes/choreography vary per song, so does the goal of what emotions or energy we're trying to evoke, because each song is a little chapter or story with its own narrative arch.
RB: Who have you been listening to these days?
B: Pussy Riot, Slayyyter, Pom Pom Squad, Sault
RB: The media refers to you as a "feminist provocateur" and a "social commentator." Is there a certain conversation you're trying to provoke with your music?
B: Of course! It's "fuck the classist white supremacist patriarchal structure of oppression!"
RB: So you're headlining the Joy this month! What can fans expect from your upcoming show w The Revivalists?
B: Robes, rollers & catharsis 🙂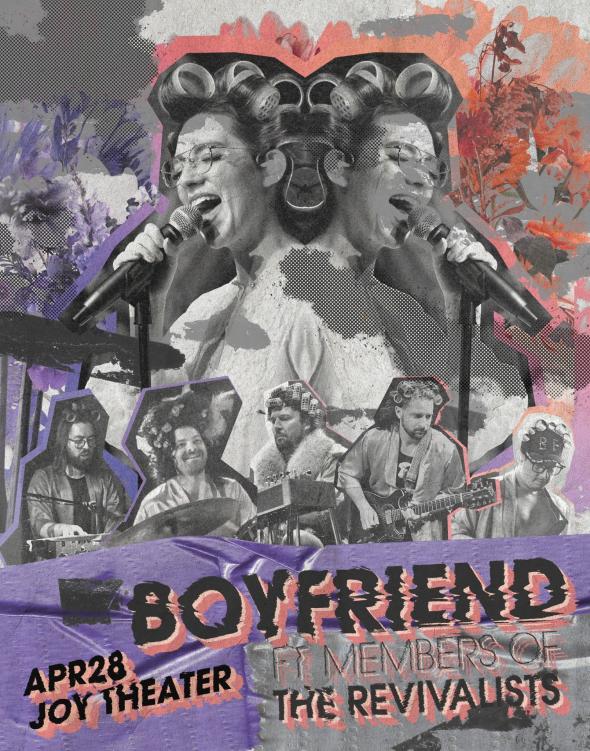 Boyfriend is taking over The Joy Theater with members of The Revivalists on April 28th in New Orleans! Grab your tickets here. Doors: 7:00 PM | THE JOY THEATER – New Orleans | Thursday, April 28, 2022
---
This editorial is Supported By The Joy Theater. Supported by is an advertorial series used to describe editorially independent River Beats content that is supported by a client's advertising spend.