Get your daytime disco on with Poolside at the House of Blues New Orleans this fall. Grab your tickets here.
---
Music enthusiasts and fans of the nu-disco and chillwave genres have reason to celebrate as the beloved American band Poolside announces a tour stop at the iconic House of Blues in New Orleans. The highly-anticipated event is scheduled for October 3, promising an unforgettable evening of rhythmic beats and soulful melodies.
Poolside, formed in 2011 by the talented duo Jeffrey Paradise and Filip Nikolic, has been captivating audiences with its unique blend of nu-disco and chillwave. Hailing from the sunny shores of Los Angeles, California, the band has created a signature sound that infuses relaxed beats, smooth electronics, and ethereal vocals, resulting in what they affectionately refer to as "daytime disco."
After a four-year hiatus from touring, Poolside made a triumphant return in 2018, delighting fans with their refreshed lineup. Since then, they have graced the stages of renowned festivals such as Outside Lands, Okeechobee, Grandoozy, and Life Is Beautiful in 2018.
In 2020, Poolside unveiled its highly-anticipated third album, Low Season, followed closely by its companion record, High Season, in 2021. Low Season offered introspective and contemplative tracks, while High Season elevated the tempo and delivered a collection of captivating collaborations, remixes, and reworks of Poolside's previously released songs. The albums featured an impressive roster of collaborators, including L'Impératrice, DRAMA, Todd Edwards, Miami Horror, NEIL FRANCES, and more, further showcasing Poolside's ability to create mesmerizing musical journeys.
Poolside in New Orleans
Now, Poolside has unveiled its plans for a highly anticipated fall 2023 tour, encompassing both festival appearances and theater performances. Among their notable stops is an evening of blissful tunes at the renowned House of Blues in the vibrant city of New Orleans. On the third of October, the House of Blues will become the backdrop for Poolside's signature sound, promising an unforgettable night of groove-infused melodies and captivating live performances.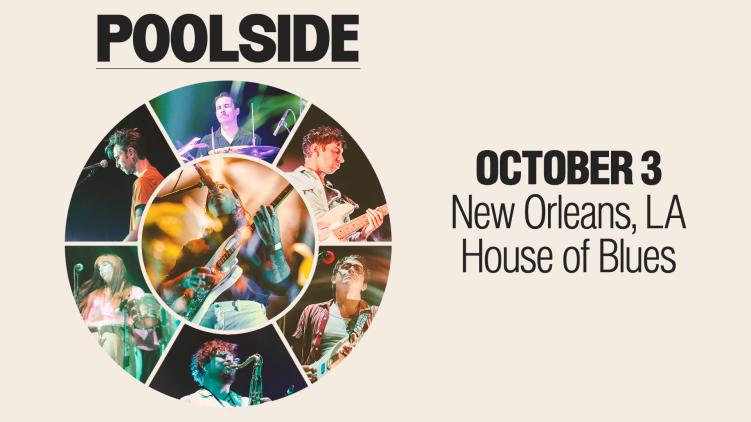 ---
Doors: 7:00 PM | House of Blues New Orleans | Tuesday, October 3, 2023
---
This editorial is Supported By Live Nation. Supported by is an advertorial series used to describe editorially independent River Beats content that is supported by a client's advertising spend.