Get ready to rock as Pop Evil, the chart-topping rock band, is all set to ignite the stage at the legendary House of Blues in New Orleans! Grab your tickets here.
---
With their electrifying energy and an impressive catalog of hits, Pop Evil has become a force to be reckoned with in the contemporary rock scene. Hailing from Michigan, the band has carved a niche for themselves with their hard-hitting sound and captivating live shows that leave audiences craving more. Get ready to rock as this chart-topping American rock band takes the stage at the legendary House of Blues on July 26!
Since its formation in 2001, Pop Evil has released a string of chart-topping albums and singles that have dominated the airwaves. Songs like "Waking Lions," "Footsteps," and "Trenches" have become anthems for fans across the globe. Their ability to blend hard rock elements with emotionally charged lyrics has earned them a devoted following and widespread critical acclaim.
Lead vocalist Leigh Kakaty's charismatic stage presence, coupled with the band's tight-knit musicianship, promises to create an electric atmosphere at the House of Blues. Their live shows have high-octane energy and leave concert-goers with an adrenaline rush that lingers long after the final chord is struck.
Pop Evil in New Orleans
Fans attending the show can anticipate an array of surprises and special moments that only a band like Pop Evil can deliver. Whether you're a long-time fan or new to their music, this concert guarantees an unparalleled experience for everyone.
The House of Blues, situated in the heart of the French Quarter in New Orleans, is the perfect venue to host Pop Evil's explosive performance. Known for its intimate ambiance and exceptional acoustics, the House of Blues has witnessed some of the most memorable concerts in the city's history. Fans of Pop Evil can expect an up-close and personal experience with their favorite rock icons, making the night even more unforgettable.
Tickets for Pop Evil at The House of Blues New Orleans are available now. Tickets start at $25 for a GA ticket. Check out other ticket options and availability here.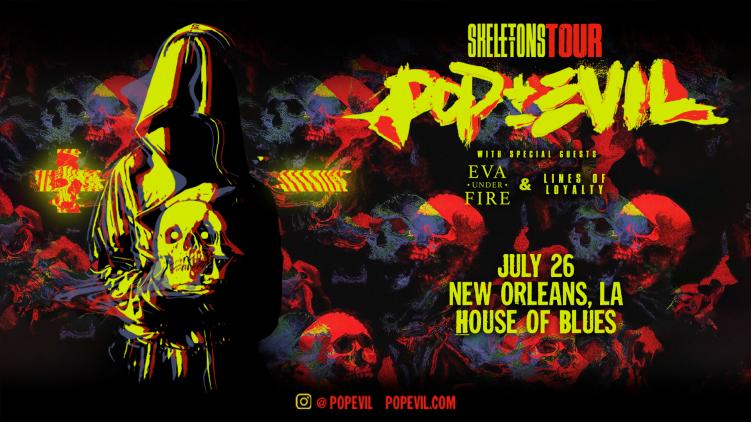 ---
Doors: 7:00 PM | House of Blues New Orleans | Wednesday, July 26, 2023
---
This editorial is Supported By Live Nation. Supported by is an advertorial series used to describe editorially independent River Beats content that is supported by a client's advertising spend.