Prepare to be taken on an electrifying journey through sound as the renowned music producer Mersiv graces the stage of The Fillmore in New Orleans on November 25. Grab your tickets here.
---
For those unfamiliar with Mersiv, he is a pioneer in the world of bass music. Mersiv has risen to prominence with his distinctive blend of dubstep, glitch, and experimental sounds. The producer's innate ability to manipulate frequencies and craft intricate sonic landscapes has garnered him a dedicated global following. Prepare to be taken on an electrifying journey through sound as this renowned music producer graces the stage of The Fillmore on November 25. Known for pushing the boundaries of electronic music and redefining the live concert experience, Mersiv's performance promises to be an unforgettable spectacle that will leave fans in awe.
Mersiv is not just a musician; he is a visionary artist who believes in elevating the live concert experience to new heights. Attendees can expect a feast for the senses, as Mersiv brings cutting-edge visuals and mind-bending production to complement his ethereal soundscapes. The fusion of mesmerizing lights, striking visuals, and pulsating beats will create a multisensory experience that transcends the boundaries of conventional concerts.
One of the most remarkable aspects of Mersiv's shows is the sense of unity and connection they foster among attendees. Regardless of background or musical preferences, Mersiv's music has a way of bringing people together. At The Fillmore on November 25, music enthusiasts will come together as one, sharing an unparalleled experience that transcends the limits of language and culture.
Mersiv in New Orleans
Fans of the unique Mersiv sound definitely won't want to miss this epic bass showcase. With his debut album Pretty Dark Loud now under his belt, the Colorado-based producer is certainly on an upswing. Additionally, Mersiv (born Anderson Benoit Gallegos) is originally from Shreveport, Louisiana. You know what that means…a good Southern throwdown is imminent.
Bass music fans are implored to arrive early so they can check out the jam-packed lineup, which includes special guest Wreckno and more talent to be announced. You may just discover your new favorite.
Tickets for Mersiv at The Fillmore New Orleans are available now. Tickets start at $30 for a GA ticket. Check out other ticket options and availability here.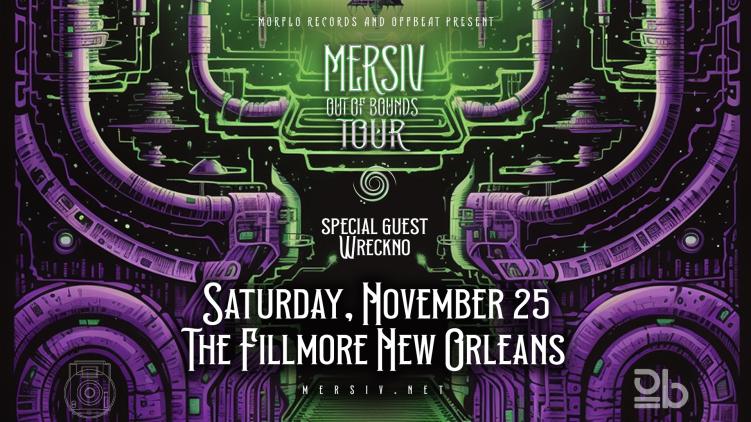 ---
Doors: 7:30 PM | Fillmore New Orleans | Saturday, November 25, 2023
---
This editorial is Supported By Live Nation. Supported by is an advertorial series used to describe editorially independent River Beats content that is supported by a client's advertising spend.