On July 25th, the House of Blues New Orleans is set to host an electrifying show by the legendary hip-hop group, The Pharcyde. Grab your tickets here.
---
The Parcyde, a pioneering force in the hip-hop world, has been wowing audiences since its inception in the late 1980s. Their unique blend of witty lyrics, innovative sampling, and vibrant stage presence has garnered them a dedicated fan base that spans generations. On July 25th, the House of Blues is set to host an electrifying show by the legendary hip-hop group, The Pharcyde, promising an unforgettable night filled with infectious beats and unstoppable energy.
The legendary hip-hop group emerged from the vibrant West Coast rap scene at the tail-end of the 80s. Comprised of four exceptionally talented and distinct MCs – Slimkid3, Fatlip, Imani, and Bootie Brown – The Pharcyde quickly rose to prominence with their innovative approach to storytelling, witty lyrics, and genre-blending sound. Drawing inspiration from jazz, funk, and soul, The Pharcyde's music featured eclectic samples and laid-back beats that perfectly complemented their thoughtful and introspective verses.
In 1992, The Pharcyde released their critically acclaimed debut album, "Bizarre Ride II the Pharcyde." The record was an instant hit. Tracks like "Passin' Me By" and "Ya Mama" became instant classics and earned them a dedicated fan base. Today, The Pharcyde stands as one of hip-hop's most respected and beloved groups, celebrated for their contributions to the genre's evolution and their ability to touch hearts and minds with their thought-provoking music. Their legacy continues to inspire and uplift, making them true icons in the world of hip-hop.
The Pharcyde in New Orleans
Whether you're a lifelong hip-hop enthusiast or just looking for a night of incredible live music, this show promises to be an event you won't want to miss. On Tuesday, July 25, the doors will open at 7:00 PM. General admission tickets are available for $29, allowing fans to get up close and personal with the electrifying performances. For those seeking a more elevated experience, balcony seats are also available for $75, giving you a bird's-eye view of the show.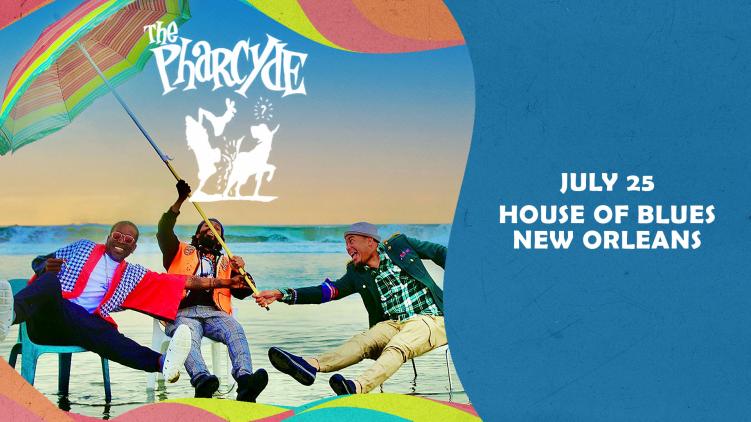 ---
Doors: 7:00 PM | House of Blues New Orleans | Tuesday, July 25, 2023
---
This editorial is Supported By Live Nation. Supported by is an advertorial series used to describe editorially independent River Beats content that is supported by a client's advertising spend.