---
From his modest beginnings on Soundcloud, Kevin Pouya, a Miami rapper known as Pouya, is climbing the ranks with unwavering determination. His music has garnered over 3.5 million monthly listeners on Spotify and continues to grow steadily. This April, Pouya and his trope of musical friends will be in New Orleans performing at the Fillmore on their new All But 6 tour.
Known for his versatile style of trap, punk, and metal, Pouya is regarded as a trailblazer of the underground rap movement that emerged on SoundCloud in the 2010s. His lyrics are raw and honest, touching on topics like mental health, relationships, and the struggles of everyday life. As an independent artist, Pouya has cultivated a dedicated fanbase that continues to support him more than a decade after his debut.
Pouya first gained widespread attention with his single "Get Buck" in 2013, which quickly became a fan favorite. He continued to build on this momentum with the release of his mixtape, South Side Slugs, in 2015. The mixtape featured several high-profile guest appearances, including Sir Michael Rocks, Denzel Curry, SDotBraddy, Fat Nick, and more. Later that year, Pouya teamed up with Suicideboys for their collaborative EP, $outh $ide $uicide, which also dropped in 2015.
In 2016, Underground Underdog became his first of three recordings to register on Billboard's Independent Albums chart, and it also cracked the Billboard 200. It was also during this time that the non-album single "1000 Rounds" with Ghostemane became one of Pouya's career high points. These early collaborations helped establish Pouya as a powerful force within the underground hip-hop scene.
Pouya in New Orleans
Pouya, along with Fat Nick and Kxllswxtch, announced an enormous 2023 tour across America to promote their latest mixtape, All But 6. Pouya's live performances are legendary, and he's earned a reputation as one of the most exciting performers in the underground hip-hop scene. Fans can expect a high-energy show filled with mosh pits, and crowd surfing. Pouya has a knack for hyping up a crowd, and his live shows are a wild ride from start to finish.
Tickets for Pouya's show at the Fillmore New Orleans are on sale now, and they're selling fast. Fans should buy their tickets early so they don't miss out on one of the hottest shows of the year. Whether you're a diehard Pouya fan or just looking for a fun night out, you don't want to miss this.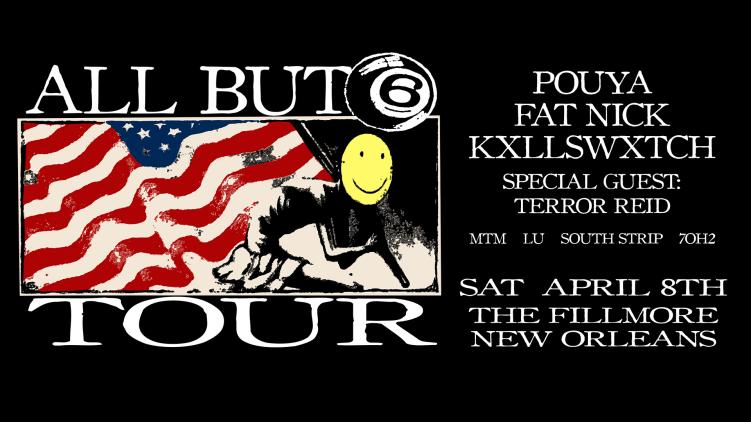 ---
Doors: 7 PM | Fillmore New Orleans | April 8, 2023
---
This editorial is Supported By Live Nation. Supported by is an advertorial series used to describe editorially independent River Beats content that is supported by a client's advertising spend.
Featured image via Chris Zwaagdyk (courtesy of Ambient Light).