Just one more week before Mardi Gras, and this weekend is jammed packed with parades, music, and other fun events! In collaboration with Defend New Orleans, we are throwing a Carnaval Kickoff Pop-Up Party at DNO's Downtown location (600 Carondelet Street St 140) this Sunday from 5-7 pm.
Featuring Tristan Dufrene and P-TAB curating the musical sounds, and merch giveaways from DNO. There are only 100 RSVPs available — make sure to reserve your spot ASAP. Reserve your RSVP here!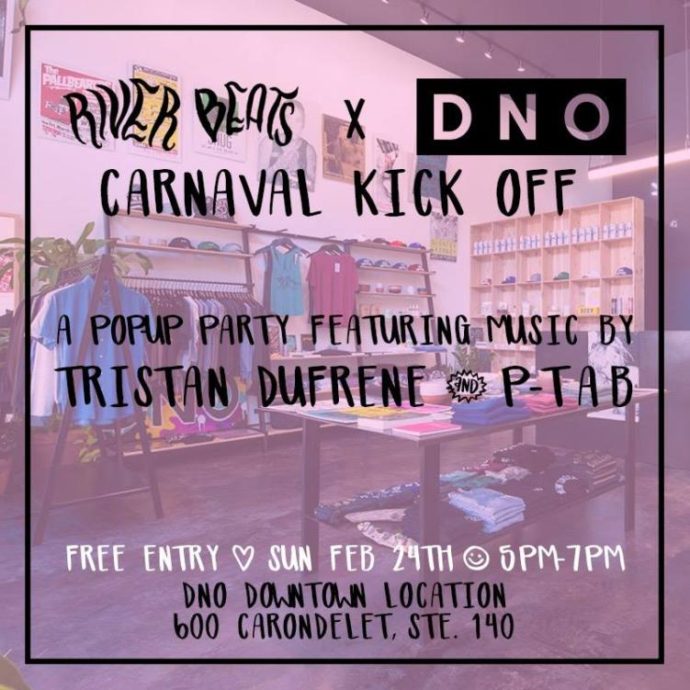 River Beats Event Guide Edition 5: February 22 – 25, 2019
Skip to Day:
Friday | Friday Parade Schedule | Saturday | Saturday Parade Schedule | Sunday | Sunday Parade Schedule

---
Friday, February 22
---
OEDIPUS MAX: A Krewe of Vaporwave Rock Opera
Where: Piazza d'Italia
When: 6 – 10 PM
It's a ball… it's an opera… it's a party… it's all of the things. Every single one of the things is what this is!
Krewe du Kanaval Ball
Where: Civic Theater
When: 8 PM Doors
Join Arcade Fire's parade krewe for a night of fun at the Civic Theater. A short Haitian themed parade will be followed by entertainment by Diplo, Jillionaire, DJ Windows 98 and many more.
The Heavy Bass Pajama Slam featuring Krimer & Phiso
Where: Republic NOLA
When: 10 PM – 3 AM
More information
Techno Club presents Spektrum feat. Disko Obscura
Where: Techno Club
When: 11 PM – 5 AM
Moer information
---
Parade Schedule – Friday
Krewe of Cork
Where: French Quarter
Starts: 3 PM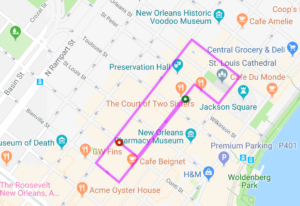 Founded in 2000, the Krewe of Cork celebrates food, wine and fun with a spirited walking parade through the French Quarter eleven days before Mardi Gras.
Krewe of Excalibur
Where: Metairie
Starts: 7:30 PM


Founded in 2000, Excalibur was named for the legendary sword of King Arthur. Formed by approximately 250 men and women members, the Krewe of Excalibur's medieval theme lends itself to grand costuming and a unique look.
Krewe of Oshun
Where: Uptown
Starts: 6:00 PM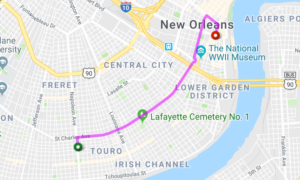 Founded in 1996, the Krewe of Oshun is named for the Yoruba goddess of love and intimacy. Led by the captain aboard a peacock float, the parade includes 20 Barry Barth floats, several bands who participate in a contest, and marching Baby Dolls.
Krewe of Cleopatra
Where: Uptown
Starts: 6:30 PM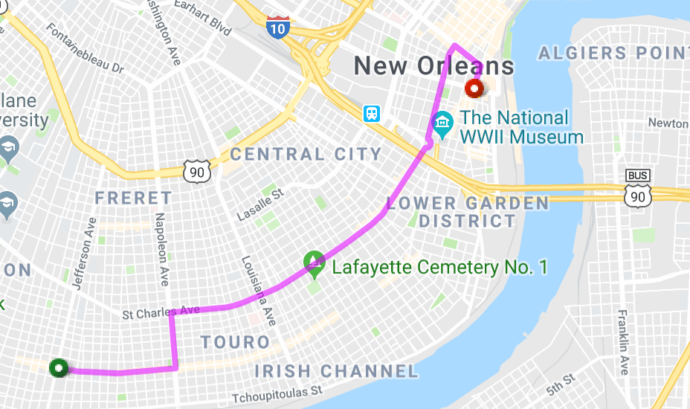 Founded in 1972, the first all-female krewe on the West Bank celebrated their 40th anniversary in 2012 with a movie to the East Bank, becoming the first all-female organization on the Uptown route. Their motto is: "Her beauty is timeless, her age is now…forever!"
Krewe of Eve
Where: Mandeville
Starts:7 PM
---
Saturday, February 23
---
Hippie Sabotage
Where: Joy Theater
When: 9 PM
More information
Bass Church feat. the Return of Kthulu Prime
Where: Santos Bar
When: 11:59 PM – 6 AM
More information
No Diggity 90's Night
Where: House of Blues
When: 10 PM
More information
Mardi Gras Warehouse Show
Where: 6411 St. Claude Ave
When: 8:30 PM – 12 AM
More information
Electro Parasol
Where: The Pearl Lounge
When: 10 PM – 3 AM
More information
---
Parade Schedule – Saturday
Krewe of Caesar
Where: Metairie
Starts: 6 PM
Krewe of Pontchartrain, Choctaw, Freret
Where: Uptown
Begins: 1 PM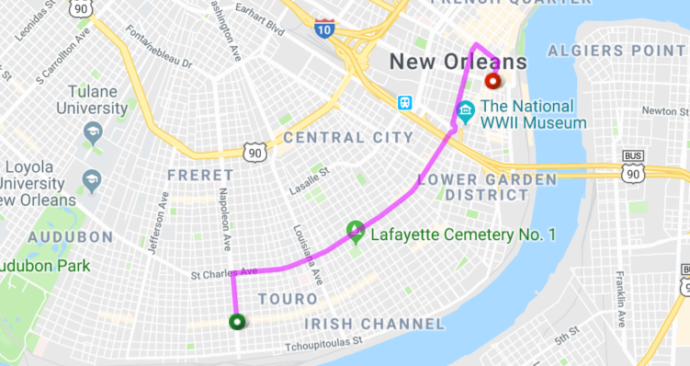 Organized in 1975 and named after Lake Pontchartrain, this fun krewe includes both men and women riders. Past grand marshals have included Allen Toussaint, Red Buttons, Bart Simpson, Irma Thomas, Jim Henderson, and Becky Allen.
Krewe of Sparta, Pygmalion
Where: Uptown
Starts: 5:30
Founded in 1952, the Knights of Sparta take their name from the city-state in southern Greece, renowned for its simple, stoic ways and exemplary disciplines.
---
Sunday, February 24
---
River Beats X DNO Carnaval Kickoff (FREE Party)
Where: DNO Downtown (600 Carondelet St 140)
When: 5 – 7 PM
More information
Rewind w/ Unicorn Fukr
Where: Santos Bar
When: 10 PM
More information
---
Parade Schedule – Sunday
Krewe of Barkus
Where: French Quarter
Starts: 2pm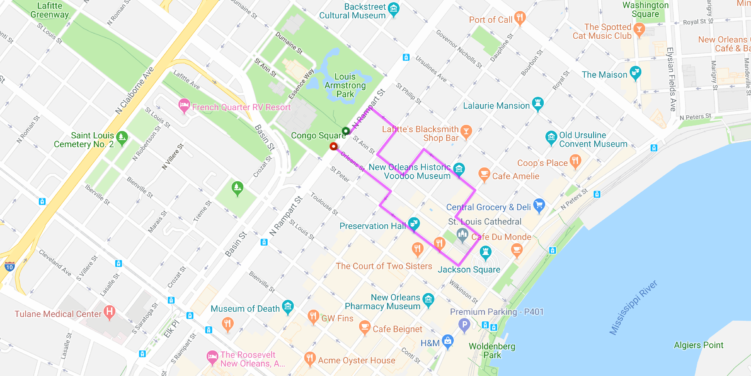 Femme Fatale
Where: Uptown
When: 11 am
Carrollton
Where: Uptown
When: 12 pm
King Arthur-Merlin
Where: Uptown
When: 1 pm
---