There is a word in Italian, avo, which translates to the ancestor. For Chef Nick Lama, a third-generation Sicilian, that word is why he's in business. Family and heritage are the driving influences for Restaurant Avo, which opened in 2015.
All across the dining room, photos of the Lama family hang in black-and-white. Now stepping into its fifth year, Avo is once again offering a unique family tradition for this Holiday season. Starting next week, Chef Nick and the crew are offering diners a prix-fixe menu in honor of the Italian Feast of the Seven Fishes. I caught up with Chef Nick for an exclusive conversation of what makes this menu so special, and what diners can expect. Continue reading for Chef Nick Lama's perspective on this special menu.
Tell us about the Feast of 7 Fishes:
"One of the best ways to describe it is as the Italian version of the French Réveillon that we do here in New Orleans. Italians would go to Mass on Christmas Eve, and then celebrate with a seven-course, fish-focused feast. The thought behind it is that dinner on Christmas day is normally heavy stuff, like roasts and hams. So Feast of the Seven Fishes gives people the chance to eat lighter fare while celebrating on Christmas Eve."
"So, it's become a tradition over time. My family has done it a bit over the years, and once I opened Restaurant Avo, I wanted to bring that tradition to the restaurant and share it with the people who come and eat here. I really enjoy it, because being from Louisiana, we have great seafood from the Gulf. And we love to eat down here. So it's an Italian tradition that fits perfectly with what we're all about. This will be our fifth year doing Feast. I'm always excited about it. We run it most of the month of December, and it's a great opportunity to do something different and to have people try something new. A great opportunity to slow down and get out of the hectic time that is the holidays; to share a meal. The purpose is to bring people together around the table to eat, talk, and catch up."
"Is your menu going to be seven courses?"
(laughs) For the restaurant's sake no. We are going to do four courses, with seven different types of seafood. The first course has three different varieties of seafood, while the second course has one. The third course will have two types, and the fourth course has one as well.
"What sort of seafood dishes have you prepared?"
Our first course is three smaller bites. We're doing fried oysters with celery slaw, seared scallop and cauliflower puree with shellfish foam, and then a Ceasar crostini with Sicilian anchovy. The second course is shrimp spiedini, which is an Italian skewer. It will be topped with mirliton breadcrumbs. That one is a play on a traditional shrimp-stuffed mirliton, which always comes around this time of year. Our third course is going to be a spicy crawfish pasta, with spaghetti and trout roe and spicy tomato sauce. Finally, we'll have a branzino, which is a Mediterranean Sea Bass. We're going to prepare this one three different ways: as a sausage, a pan roast, and then a flash-fry of the belly part.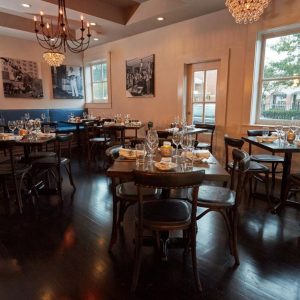 Are these family recipes, or dishes you have been working with for a while?
"Not exactly. Every year we change and play with the dishes a bit. Some of it does come from family traditions. The shrimp-stuffed mirliton is one. My grandmother would love to make it for Thanksgiving and Christmas, so that's one I am really excited about. A lot of times pasta dishes are based on things that families do; home-recipes. I like to take things that people are familiar with, comfort food and such, and put a new, modern twist on it. Turn it into something new and different."
You've talked about the importance of Gulf seafood. How does your menu look in terms of local sourcing?
"The availability and prices of oysters have been tough, but we're going to have them on the menu and we're going to do our best to use local oysters. I really try and source and use a lot of local ingredients in our dishes. On the things we can't get locally, we try and add our native flavors too. A scallop isn't from here, for example, but the sauce on the scallop, which features shrimp and crab— that stuff is from here. It's a shellfish emulsion that has local components. I want to try and honor that since we have some of the best seafood in the world."
Do you do a Feast of Seven Fishes at home?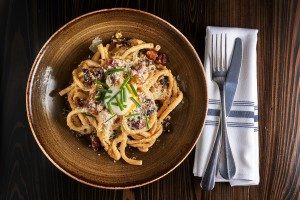 "That's how it started. We used to do it at home a lot. But, now that I have the restaurant and we're open I don't cook it as much at home. We have a big Christmas dinner where my wife and daughter will cook, but I don't do much of it outside here. What's nice is that a lot of families will come in and have the Feast menu. They'll dine here in the weeks leading up to Christmas Eve. We sort of just moved the Feast dinner here. During the holiday season, I leave the cooking to my mom, my grandma and my wife."
What are you really excited about for this menu?
"Honestly I'm really excited about all of them. But, to pick out certain things I am really excited about… one of them has to be the pasta course. Pasta is something that I really like to do. From the dough to the finished product, that's number one for me. And, as I mentioned, shrimp mirliton is one of my favorite things to eat at the family's house over the holidays, so I am really excited to offer that on the Feast menu. We're doing kind of a twist on it, but with a lot of familiar flavors that would be found at home."
So much of Feast of the Seven Fishes is about family getting together. What does it mean for you to be able to offer this feast, now in its fifth year, during such a festive time?
"I really enjoy this time, because it's how I got into cooking. I learned to enjoy cooking during the holidays by doing it with family. It was always a fun time to get together and bond. I drifted towards the kitchen more than the living-room party. Because when you're cooking, you're distracted and your guards down a bit. It becomes an honest time. You're having real conversations. The prep-part of the meal became my favorite. Then, when you're done, you're really proud of what you created. You did it with someone you love, and you're sharing it with other people that you also really love and care about. Those moments are what got me started."
"To be able to bring Feast of the Seven Fishes to the restaurant, to entertain people and give them a taste of something from my heritage and culture, but also something from my personal and family history… that's what this is all about. People come to Avo and share this experience with their own families. Holidays are a fun time, but they're hectic. So getting folks to come in and enjoy the Italian tradition, my family tradition, of sitting, drinking, and having a good time– that's what I really like about Feast. Bringing people around the table to have fun, and getting to be apart of other families' celebrations, even in a small way, that's why we do this."
Additional Info
Avo will be offering their Feast of the Seven Fishes Menu starting this weekend, December 8th. Feast will run through December 28th. The prix-fixe price will start at $67 and you can add a four-course wine-pairing for $30. Click here to make reservations, or call 504.509.6550. Hours: Mon-Sat 5pm-10pm.
---
Follow River Eats for the latest on food and drink around New Orleans. Have a restaurant you think should be featured? Email tips to brich@riverbeats.life