Rufus du Sol's keyboard player Jon George leaned in to the microphone with a big smile. "We never thought we'd play to this many people in New Orleans before," he said as the notes of his synth faded. The sold-out crowd answered with a thunderous roar. They wouldn't let up, and grew louder as the Aussie musicians laughed and shook their heads in humble disbelief.
As locals may know, Rufus' Saturday night performance at the Joy Theater completely sold out barely a week after the show had been announced – all the way back in January.
The LA-based three piece visited for our 2018 Voodoo Music + Arts Festival. But, the tiny South Course stage didn't do their big, melodic house sound much justice. This left many fans hungry for more.
Their weekend performance was the lush, electric spectacle we'd all been waiting for. Tyrone's vocals floated effortlessly above music as he won the heart of the crowd with his blonde hair, blue-eyed surfer boy smile. James Hunt kept the entire room in motion with crisp drumming, and Jon George nailed the iconic Rufus synth sounds we all knew by heart.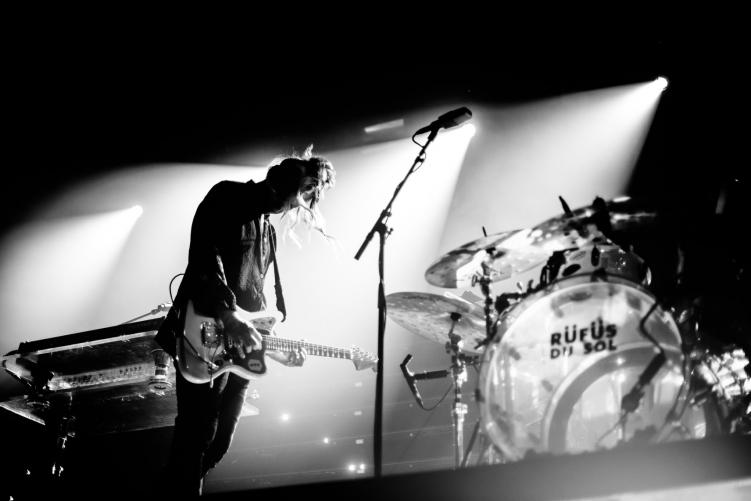 They opened with the heavy-hitting track "Eyes" from their latest album Solace. From there, Rufus du Sol's performance spanned across the many vocal house hits both from Solace and from their groundbreaking album Bloom from 2016. They even threw in some older tracks from their debut album.
It was a sing-along, dance-inducing spectacle that has the entire theater up on their feet. After the encore the guys thanked the crowd, and casually mentioned that they'd be spending their couple days off hanging around the Big Easy.
Any Rufus spottings from the week floating around out there?
Follow River Beats New Orleans to stay up to date on all your favorite events in the city.