After embarking on a global tour and bonding over their shared passion for hip-hop, humor, and live performances, the widely recognized New Orleans rapper Alfred Banks and Grammy-nominated saxophonist/producer Albert Allenback joined forces to create SaxKixAve.
Go back to 2018 and 2019, Albert Allenback is on tour with Tank & the Bangas and all is right in the world. Enter: Alfred Banks and the start of his relationship with Allenback.
"From there, me and Albert started cracking mad joking and vibing extremely hard. Afterwards, our former manager, Tavia, thought it'd be a dope idea for us to get together to create. We had such a blast making a few songs that we decided to make it a thing and BOOM, Saxkixave was born!"

– Banks
Initially conceived as a side project for both musicians, SaxKixAve quickly gained prominence in its own right, experiencing rapid growth thanks to the devoted and organic support of fans and listeners since its inception in early 2020.
Their unconventional and viral videos have garnered significant attention on major social media platforms, establishing them as highly skilled musicians with a consistent ability to masterfully blend humor into their performances. Albert's innovative and jazz-infused production style, influenced by R&B, provides the perfect foundation for Banks' cleverly witty and emotionally introspective lyrics.
View this post on Instagram

And now, they're on the precipice of their second EP, Nectarine Peels. SaxKixAve this release as a reflective studio daydream that encourages individuals to embrace their true selves, even when it may seem easier to conform to others' expectations. The biggest them to them with this project was "adding humor where it felt natural. […] [They] never really forced the issue with trying to make things funny."
"This EP was the culmination of a bunch of really great ideas that me and Albert put together and decided to share with the world. It felt good to make. Again, it's this natural kind of energy that we truly live by, and it seems to be working well for us."

– Banks
Featuring collaborations with Pell, Hasizzle, Letrainiump, and Mega Ran, "Nectarine Peels" introduces a refreshing and dynamic energy, showcasing their distinctive musicality and thoughtfully nuanced approach that resonates with the current sonic landscape. When asked about their collaboration process, SaxKixAve explained that "collaboration [for us] is not some huge situation we stress over." They approach collaboration if the moment feels right, saying that they "reach out to their friends and the job gets done."
"So far, everyone we've done music with is just already in our inner circle so, it's very easy to make that happen."

– Allenback
Listen to Nectarine Peels above, and stay tuned for more from this emerging duo!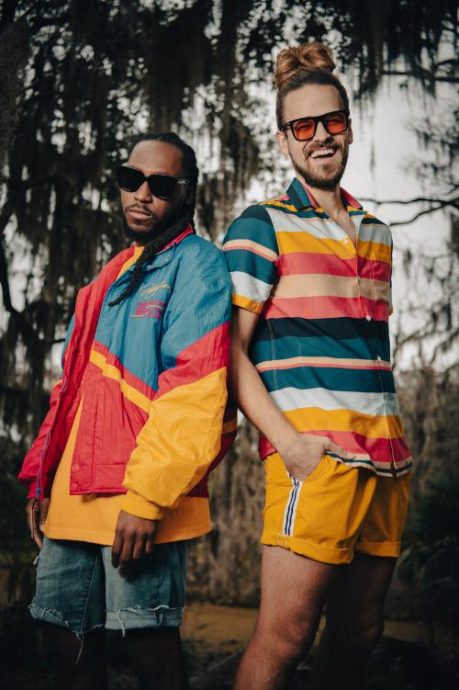 Images via Gary Governale