Sylvan Esso is stopping at The Fillmore next week, May 12th, in New Orleans! Grab your tickets here.
---
Despite being only two people, Amelia and Nick of Sylvan Esso are able to command any stage they take to. The duo is currently touring to support their latest album Free Love. You can catch Sylvan Esso in New Orleans at The Fillmore on May 12th.
Even though their latest album, Free Love, was released over two years ago, the husband and wife haven't been able to do much touring – what with a global pandemic and all. Now, they're fully unleashed on their tour in support of Free Love.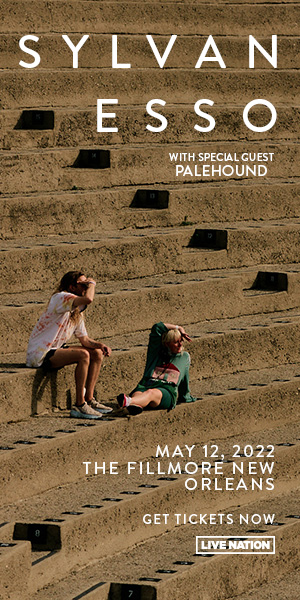 Free Love is the instantly endearing third studio album from Sylvan Esso. It morphs from shimmering pop on tracks like "Ferris Wheel" and "Numb" to delicate ballads like "Free."
The North Carolina natives have already snagged a Grammy nomination for their sophomore album, What Now. Similarly, pop triumphs like the hit tracks "Coffee" and "Die Young" have upwards of 60 million streams on Spotify alone. Despite all the success, the pervading theme of their newest album is this: finding confidence.
Free Love asks major questions about self-image, self-righteousness, friendship, romance, and environmental calamity with enough warmth, playfulness, and magnetism to make you consider an alternate reality. Between Meath's delicate vocals and Sanborn's slyly sophisticated production, it's a reality worth exploring.
For their upcoming show in New Orleans, fans of Sylvan Esso can expect an indie dance party to make up for the past two years lost. Fan favorites like "Coffee" and "Hey Mami" will surely make it into the setlist, as well as newfound hits like "Ferris Wheel" and "Die Young."
For their current tour, they're joined by special guest Palehound. Palehound is the project of Boston-based singer/songwriter Ellen Kempner. Her sound is rooted in '90's D.I.Y. indie rock. Evolving from lo-fi bedroom rock now into a touring trio, Kempner snagged a spot on the Polyvinyl Label alongside shoegaze superstars like Alvvays and Japanese Breakfast.
Don't miss Palehound and Sylvan Esso in New Orleans on Thursday, May 12th at The Fillmore. Tickets are on sale now.
---
Doors: 7:00 PM | THE FILLMORE – New Orleans | Thursday, May 12, 2022
---
This editorial is Supported By Live Nation. Supported by is an advertorial series used to describe editorially independent River Beats content that is supported by a client's advertising spend.