LSU Football ended the regular season on a tear. They continued that momentum into the Peach Bowl for a decisive victory over the Oklahoma Sooners. Now, the Fighting Tigers head to the Superdome for the National Championship. Which might as well be a home game.
And what do home games mean? Why, a tailgate of course! While nobody can do pre-game celebrations quite like the jambalaya-scooping, Popeyes-serving, boudin-grilling Tigers fans, another local favorite is going to try (and for a good cause, too). This Monday, Walk-Ons and the Vintage Rock Club join together to offer you a VIP Tailgate Experience & Nat'l Championship Watch Party. Read on for all the details.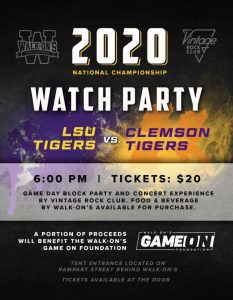 The VIP Tailgate & Watch Party Experience
From 1:30p to 5:30p on Game Day, The Vintage Rock Club will be setting up tents between Rampart St. and O'Keefe Ave. Entrance to the VIP Tailgate & Watch Party will be immediately off of Rampart, behind Walk-Ons.
You'll be hard-pressed to find a better location to party. Attendees can expect a "throwback" rock concert. A large-screen projector will play vintage rock videos and concert footage before the Game. And, since good music only gets better with food, Walk-Ons will offer catering options and an open-bar for VIP attendees.
Then, at 6:00p on the 13th, the National Championship watch party begins. The giant projector screen will tune into the title game, continuing the rock vibes during commercial and half-time breaks. Catering options from Walk-Ons will be available to purchase for those who come to watch the game. And, when the Tigers carry their momentum through and win the Title, guest for the VIP experience can be right in the action that's sure to spread from the Superdome. This is a party you're not going to want to miss.
For A Good Cause
The Game On Foundation is a 501(c) nonprofit organization focused on rebuilding and refurbishing youth sports facilities. Established by Walk-Ons, the Game on Foundation has already refurbished several basketball courts in Baton Rouge since 2018. A portion of ticket proceeds from the Vintage Rock Club VIP Tailgate Experience will go towards continuing the Foundation's mission of supporting and improving youth athletic facilities across the country. Consider your watch party tickets as part of a good cause!
Details
Purchase tickets here. This event is outdoors and will take place rain or shine. Limited tickets are available for purchase. Wristbands will be required for pick-up prior to the event date on Friday, January 13th between 10:00 AM – 2:00 PM at the Copper Vine Wine Pub, 1003 Poydras Street, New Orleans LA 70112. Alternative accommodations must be requested at info@brechtelhospitality.com.
---
Featured Images: 225 Magazine & Walk-On's