For a Wednesday night, you would have been hard-pressed to find a better music showcasing than Winter Circle Productions. Yellow Claw, Cesqeaux, and the rest of the Barong Family came out in full force for the New Orleans stop of their BARONG FAMILY WORLD TOUR. The Dutch label made NOLA their home for the night and the city received them with open arms.
Local duo Red Barrington got the night started. Halfway through their set, they managed to get people moving on the dance floor. By the end, the floor was filled and the energy was high in the room.
Cesqeaux completely stole the show, in my opinion. The young producer commanded the crowd with comfort. His poise and stage presence came off years advanced. The crowd could tell too because they fed off of it. Some of my favorite moments of the night came in his set. With a heavy bass and trap influence, he set the mood for the rest of the night; a perfect compliment to label-mates Yellow Claw.
By the time the headlining duo came out, the party couldn't be stopped. They took over and gave the crowd exactly what they came to see. Amsterdam Trap vibes were alive and well at the Republic Wednesday night, and for anyone who had never seen the Legends live were especially in for a show. The entire crew ended up out on stage supporting Yellow Claw. Cesqeaux was effectively playing hype MC and interacting with the crowd till the end of the night to round out the set in true family fashion. After the headlining set, music continued to play till early in the morning for the dedicated party people to the delight of many.
Weren't able to make it to the show Wednesday, September 28th? Check out these event photos and get major FOMO:
Photo Cred: Becca Wilbee/Unseasoned Sound
And to make sure you don't miss your favorite artist check out WCP's remaining Fall season: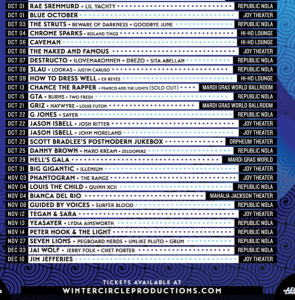 CONNECT WITH RIVER BEATS
facebook |twitter | instagram | youtube | soundcloud  | mixcloud