This week, it's good to be a millennial, because all the entertainment was made for you. We are talking about early 90s boy bands, wearing pink on Wednesdays, and emo rock.
Monday, May 16
Monday is the day of rest because we definitely did not include that part in our Sunday Funday plans. The day of rest also means not having to worry about making your own dinner or even trying to figure out what is open tonight, which is why we just made Mondays even easier for you. Check out our list of restaurants open on Monday. You're welcome and Bon appetite!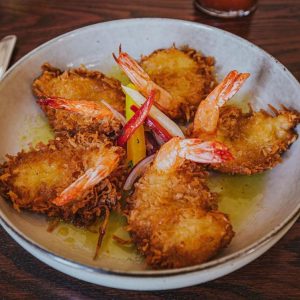 Tuesday, May 17
The basic girl in everyone comes out when love for Mean Girls and musical theater combines. Based on the popular Tina Fey movie, The Mean Girls musical hits the stage at The Saenger Theater this week, and, according to reviews, it's just as funny. Get the girls together, wear pink, and reminisce about a time when Lindsey Lohan was an icon. Tickets are available for Tuesday, May 17 through Sunday, May 22.
Wednesday, May 18
New Kids on the Block
A tour titled The Mix Tape Tour only makes sense to the Millennials – a generation raised on landlines, Limewire, boy bands, and, yes, making mixed tapes by recording songs straight from the radio. The last one required lucky timing and honing some impeccable skills. The tour includes performances by New Kids on the Block, Salt-N-Pepa, Rick Astley, and En Vogue. We'll just leave this at #IYKYK and let that speak for itself. The show starts at 7:30 at the Smoothie King Center. There's still time to get tickets and relive your youth.
Wednesday at the Square
Another Wednesday, another YLC Wednesday at the Square. The weekly concert series continues this week with Big Sam Funky Nation and Erica Falls. It all starts at 5 p.m at Lafayette Square in the CBD.
Thursday, May 19
Enjoy an intimate, candlelit Jazz performance by The Nayo Jones Experience, playing songs from Nina Simone and Billie Holiday inside the Felicity Church. It's BYOB, so bring your favorite bottle and your favorite person for a unique experience that won't be replicated again after this night. Only a few tickets are available for the 6:30 and 9 p.m. performances.
Mexican Pizza is back at Taco Bell
Let's be honest, we have all been waiting for this return, so let's call it what it is: the culinary event of the week. The popular Mexican Pizza is back at Taco Bell after a sick marketing tactic to remove it from the menu. We may or may not be camping out on Claiborne.
Late Night Curiosities
This one is for wine aficionados or aspiring connoisseurs. Join the Columns Hotel for a wine tasting and "deep dive" of a selection of four different natural wines. The event starts at 8 pm and goes late into the night. Tickets and information are available on resy.
Friday, May 20 – Sunday May 22
Smashing Pumpkins
Word on the street is that The Smashing Pumpkins may be playing some new hits from their 2020 album "Cyr," but chances are you're really going to get your emo on to the hits that raised you like "1979" and "Tonight, Tonight." Tickets for the Champions Square show start at $35 and are still available via Ticketmaster.
Bayou Boogaloo
New Orleans loves a festival and the Mid-City neighborhood favorite, Bayou Boogaloo, is back for the 16th year. Expect the same festival vibes you love, a bayou littered with pool floats, and some new features, including a floating Brass Barge stage, a kids' area with activities and a nursing station, and yoga. The musical lineup includes Ani Difranco, Squirrel Nut Zippers, Maggie Koerner, and Soul Rebels. The three-day festival kicks off on Friday. Tickets and information are available at thebayouboogaloo.com.
Parkway Bakery and Tavern has partnered with Ochsner Transplant Institute to bring awareness and raise money for organ transplant programs. From Friday, May 20th – to Sunday, May 22nd, Parkway will be donating $1 from each shrimp po'boy sale to support transplant patients and programs at the Ochsner Transplant Institute. Stop by during Bayou Boogaloo to settle that po'boy and support an important cause. We call it a win-win.
The popular indie rock band Bleachers is on the rise, so be sure to check them out at The Fillmore this week. Whether you're already in the know or have yet to experience their talent, their live performances are not to be missed, according to insiders. Check out our preview and be sure to snag your ticket before they sell out.
Red Bull Dance Your Style Weekender
Featuring a unique battle format, the Red Bull Dance Your Style series tests dancers' freestyle skills. Featuring unpredictable soundtracks with everything from recent global hits to classic beats, Dance Your Style will have the crowd deciding who rules the dance floor.
The dance contest will sprawl across three days and multiple venues in the city of New Orleans. From hip hop to house, to locking to popping – dancers participating in Red Bull Dance Your Style will need to wow the crowd and ultimately win their vote. Learn more or buy tickets HERE.
Bonnie X Clyde @ Republic NOLA
Looking for a night of dancing? Well, then you are in luck. Dance music producers Bonnie X Clyde are taking over the Republic NOLA this Friday May 20. XM Projects & Relentless Beats Present: Bonnie x Clyde….Road to 'Tears in Paradise Tour.' Support by: Paz, Morbeato, Reverend, and Goofy! Grab tickets here.
View this post on Instagram