Bleachers are stopping at The Fillmore on May 20th, in New Orleans! Grab your tickets here.
---
If you didn't know, Bleachers are being hailed as one of the best live acts in the world. The New Jersey-based band is currently touring to support their latest album Take the Sadness Out of Saturday Night. You can catch Bleachers in New Orleans at The Fillmore on May 20th.
At a Bleachers show, you can certainly expect to dance. frontman Jack Antonoff is often known to parade and jump around the stage with infectious energy. Their high energy shows feature more than the traditional indie-rock lineup of guitar, drums and singer. For their 2022 tour, they also feature an epic brass section that adds to their jovial sound, and will certainly feel right at home in New Orleans.
For their New Orleans performance, the band takes support from singer/songwriter Allison Ponthier.
To accompany the tour announcement, the group released the music video of their hit single "How Dare You Want More." The video for the punchy track showcases that their live performances are certainly one of Bleachers' greatest talents. The video features footage from the band's sold-out tour last fall, showcasing behind-the-scenes video and energetic performance clips from various stops across the US. 
Bleachers in 2022
The band had a pretty stellar start to 2022. To kick off the year, they made their debut performance on the season premiere of NBC's iconic Saturday Night Live. Now in the midst of "the 2022 tour" and rumors of a new album, Bleachers show no signs of slowing down.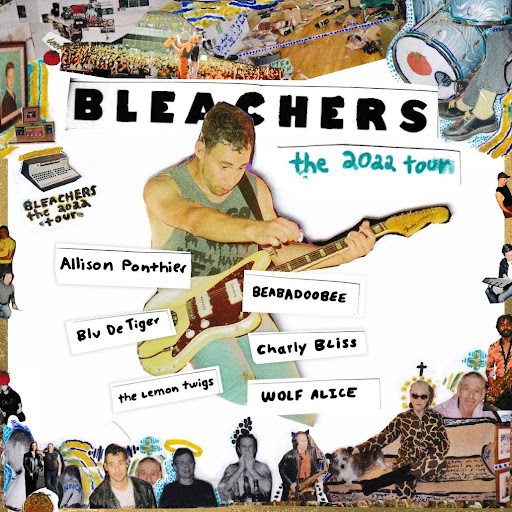 In the band's early days, Bleachers' Antonoff referred to the project as a hidden alter-ego. While he was busy fronting 2012's favorite radio-pop group Fun, he was also writing what would become Bleachers' breakout single: "I Wanna Get Better."
Three albums and a decade later, Jack Antonoff is now one of the most influential voices in pop music. Though many people probably don't know it. Antonoff does the secretive, pop-music genius in the shadows better than anyone else. While his own band remains mainly on the "indie" circuit, he's simultaneously raking in Grammys (six to be exact) and producing mega-hits with the likes of Taylor Swift, Lorde, Lana Del Rey, Florence + The Machine, and gobs more.
While Bleachers may not get the recognition of some of Antonoff's more famous co-writers, he puts his heart and soul into their music. It's apparent in their ecstatic live shows and their heartfelt take on jangly, '80s synth-rock.
Don't miss Bleachers in New Orleans on Friday, May 20th at The Fillmore. Tickets are on sale now.
---
Doors: 6:00 PM | THE FILLMORE – New Orleans | Friday, May 20, 2022
---
This editorial is Supported By Live Nation. Supported by is an advertorial series used to describe editorially independent River Beats content that is supported by a client's advertising spend.