Bayou Boogaloo is back this weekend with the music, food, and pool toys everyone most adores and anticipates about the beloved, annual Mid-City neighborhood festival. The three-day event, which takes place along Bayou St. John, kicks off Friday, May 20th at 5 p.m. and continues all weekend long. We have all the details below!
The Basics:
When: Friday, May 20th through Sunday, May 22nd. Gates open at 5 p.m. on Friday afternoon and at 11 in the morning on Saturday and Sunday.
Tickets: Ticket prices start at $10 for Friday general admission ($75 for VIP Canopy Club ticket), $20 each for Saturday and Sunday GA ($125 for VIP), $45 for a weekend wristband ($240 for weekend VIP)
Tickets and wristbands are available for purchase online.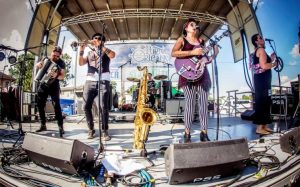 The Music:
Entertainment across four stages includes music by Ani DiFranco, Dragon Smoke, Squirrel Nut Zippers, The Soul Rebels, Sonny Landreth, and Maggie Koerner. In addition, Bayou Boogaloo has recently announced the inclusion of performances by Inferno Burlesque, Joshua Starkman, and Friends ft. Gabrielle Cavassa and Sabine McCalla, Chosen One's Brass Band, L.B. Landry High School's Brass Band, and the 2022 winners of the New Orleans Jazz and Heritage Foundation's "Class Got Brass" Competition, performing on the floating Brass Barge. The Bayou Boogaloo schedule is available to view online here.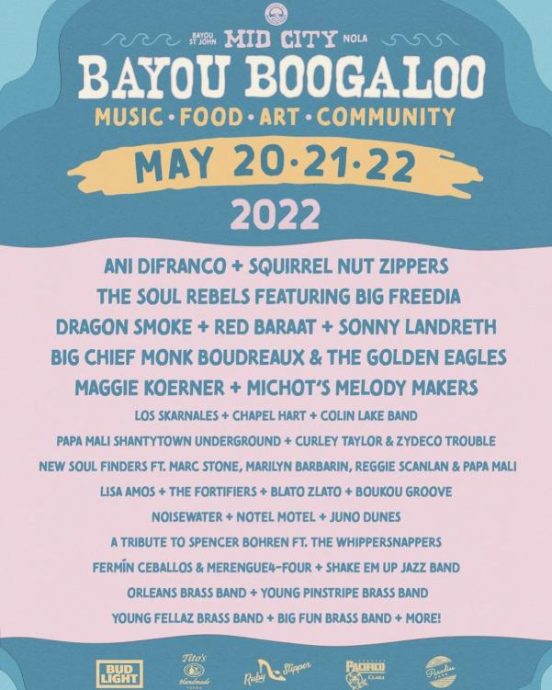 Canopy Club VIP Lounge:
The purchase of VIP tickets includes access to the Canopy Club VIP Lounge, an exclusive oasis next to the stage with shade, seating, restrooms, a complimentary bar, and catering.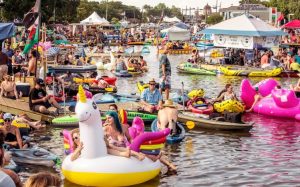 The Food:
The food options cater to everyone's needs and cravings, and include some of Mid-City's best: Mid-City Pizza, Clesi's, Soulé Café, Jamaican Jerk House, Dat Dog, and Bub's Burgers. New this year is also the addition of food trucks, including local favorites like Da Grill Masters and Southerns, who will be there serving their famous chicken sandwich. Food trucks will be parked along Dumaine Street. Check out the full list of food vendors to plan out your eating schedule.
For the kids:
The family-friendly festival offers special programming for children across the three days, kicking off with the return of the Silent Disco with DJ Tom Harvey on Friday night. Saturday and Sunday programming begin at noon each day with scheduled entertainment like dance performances, drumming workshops, and arts and crafts projects. The children's area caters to kids of all ages, and even includes a baby changing station and shaded feeding tent for nursing mothers, hosted by Nurse Nikki.
Self Care is always on the roster:
Self-care is a great way to kick off a day of eating, drinking, and dancing. It's called balance. Look it up. Yoga instructions include family yoga at noon in the kids' tent and a Sunday morning yoga class by Swan River Yoga on the Dumaine Stage at 11 a.m., followed by Sound Bath with Michelle Baker.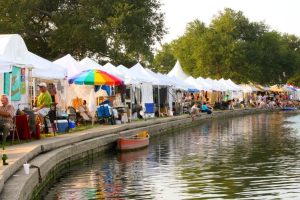 Art Market:
The art market makes its triumphant return this year, featuring 60 local and regional artists and crafters.
As it turns out, Bayou Boogaloo has a little something for everyone, and this year's installment is not to be missed. For more information like tickets, daily music schedules, and bayou rules and boating restrictions, visit thebayouboogaloo.com.