Well, that's it folks! Bayou Boogaloo Music Festival just wrapped up three days of fun along Bayou St. John in Mid-City. This was the 14th consecutive Bayou Boogaloo, and besides some morning rain on Sunday, this is possibly one of the best years yet.
Anders Osborne, Tap Benoit, Amanda Shaw, Cowboy Mouth, The Suffers, and Raw Oyster Cult made up some of the musical talents from this year. While the entertainment is top notch, there is something unique about this festival. It's a mixture of the food, music, people, and overall freeness of the festival that makes it stand out amongst other NOLA festivals.
Although the festival charged $10 a day, it still feels "free" in terms of expression and a desire to enjoy the outdoors. You see it day after day as people pile onto homemade rafts and float along the bayou, enjoying the sounds and smells that make New Orleans festival culture unlike any other city in the world.
While we can talk on it all day long, it's best to show you what we mean.
Dive into 15 of our top moments from the wonderful Bayou Boogaloo!
---
Can you beat these views?
View this post on Instagram
---
If it floats, it fests, including Root Beer
---
The art vendors were the hidden gems
Last chance to bid on our Original Poster Art by Lionel Milton! Auction closes at 6pm 🛎 pic.twitter.com/tC2IcRLHUF

— Bayou Boogaloo (@bayouboogaloo) May 19, 2019
From "Devastation to Jubilation:" a look back on 14 years of Bayou Boogaloo growth
Devastation to jubilation. I shot the top photo on Bayou St. John when I first got back after Katrina. Bottom, last night at @bayouboogaloo with Anders Osborne wailing. The people of New Orleans amaze me. pic.twitter.com/laTvf8tJNS

— Ian McNulty (@IanMcNultyNOLA) May 18, 2019
Inspired by @IanMcNultyNOLA's
then/now photos yesterday.

Same location: Bayou St. John, NOLA

Photo #1:
Hurricane Katrina coverage 2005 😞

Photos #2-4:@bayouboogaloo 2019 😃

I'm biased because we live on the bayou, but this festival is amazing!
My favorite in NOLA! pic.twitter.com/3JnUSOP3Ks

— Fletcher Mackel (@FletcherWDSU) May 19, 2019
---
And the food was (of course) on POINT
View this post on Instagram
---


We can't forget about the music….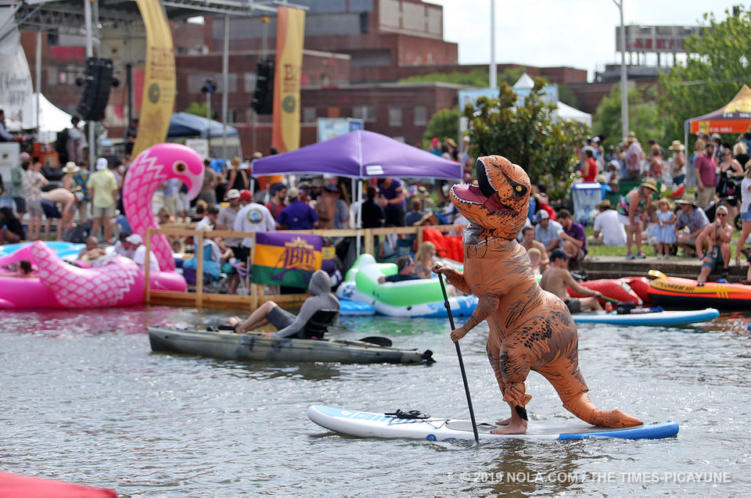 ---
All great things must come to an end, until next year Boogalooers
View this post on Instagram
---
All featured images presented by Michael DeMocker of NOLA.com