Live music is back and there's plenty of it to get you through the week in New Orleans. We made a list of this week's top picks, just to make life a little easier for you. You're welcome.
Tuesday, May 3rd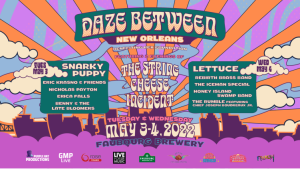 Daze Between: Is the week feeling quiet now that you've had a taste of the first weekend of Jazz Fest? No need to wait until Thursday again. Daze Between, in its inaugural year, is a two-day mini-festival taking place during the days between Jazz Fest weekends. It kicks off Tuesday, May 3rd, and continues on Wednesday, May 4th at Faubourg Brewing. Music begins at 2 p.m. with music by The String Cheese Incident, as well as jazz, funk, and jam bands including Snarky Puppy along with Eric Krasno & Friends, Nicholas Payton, Erica Falls, and Benny & The Late Bloomers.
Wednesday, May 4th
Daze Between: Daze Between at Faubourg Brewing continues with performances by The String Cheese Incident, Lettuce, Rebirth Brass Band, The Iceman Special, Honey Island Swamp Band, and The Rumble featuring Chief Joseph Boudreaux Jr.
Wednesday at the Square: Can't stop, won't stop festing. YLC's free Wednesday night concert series at Lafayette Square in the Warehouse District continues with performances by Shamarr Allen and Margie Perez.
Thursday, May 5th
Jazz Fest Locals Day: Insiders and locals know about the beauty of Jazz Fest Thursday, a.k.a. locals' day. The tickets for that day are a little cheaper at a discounted $50 at the gate, the food lines are a little shorter, the crowds are tamer, and it feels more fun playing hooky to fest all day anyway.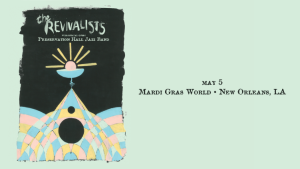 Revivalists and Preservation Hall at Mardi Gras World: After Jazz Fest is the after-party. Two New Orleans icons, The Preservation Hall Jazz Band and The Revivalists join forces for an epic post-Jazz Fest show at Mardi Gras World. Doors open for the concert at 9 p.m., but there's an intimate pregame called the RevHeads Ball at 6:30 p.m. for those who don't need a disco nap between Jazz Fest and the concert. Tickets are available here.
Tank and The Bangas: Grammy-nominated band Tank and The Bangas brings together hip-hop, jazz, soul, pop, and spoken word poetry for a unique and rhythmic blend that speaks to all the senses while shedding light on societal challenges facing today's world. They'll be debuting songs from their forthcoming album, "Red Balloon."
Cinco de Mayo: Taco Tuesday is extended to Thursday this week, so celebrate accordingly at one of the city's many Mexican restaurants, including Juan's Flying Burrito, Santa Fe, or Johnny Sanchez.
Friday, May 6th
Jazz Fest: The New Orleans Jazz and Heritage Festival continues with headliners The Black Crows, Elvis Costello, Big Freedia, and Busta Rhymes.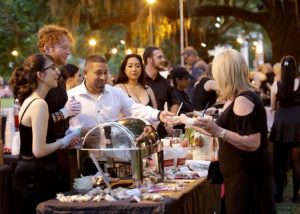 Zoo To Do: The adults-only fundraiser at the Audubon Zoo is an outdoor event, featuring food and cocktails from New Orleans restaurants and live music from The Alexey Marti Quartet, Tin Men, party band The Phunky Monkeys, and yacht rock cover band Where Y'acht.
Saturday, May 7th
Jazz Fest: Jazz Fest continues for the final stretch, with headliners Stevie Nicks, Erykah Badu, The Revivalists, and Lauren Daigle.
Derby Day at The Columns: Get your best hat, because it's not officially Derby Day without it. Other essentials include mint juleps and The Columns Hotel has got those covered. Join The Columns and Makers Mark on Saturday for a Derby Party that will make those intense two minutes of the Kentucky Derby worth it. The $30 ticket includes three complimentary cocktails and light snacks. Tickets and additional details are available on Resy.
BoomBox at House of Blues: The duo brings together house, funk, rock, and "a whole lot of soul" to the House of Blues after Jazz Fest on Saturday night.
Big Freedia at Republic: If you missed Big Freedia at Jazz Fest on Friday or if you just didn't get your fill of New Orleans's bounce ambassador, this is your chance. Doors open at 8:30, show starts at 9:30.
Sunday, May 8th
Jazz Fest: Close out Jazz Fest properly with Irma Thomas, Willie Nelson, Jimmy Buffet, Maze, Trombone Shorty, and Orleans Avenue. It's the only way to close out the fest.
Fleetmac Wood: Catch the Fleetwood Mac tribute band Sunday night for Fest After Dark at the newly opened Toulouse Theatre. What are the chances that Stevie Nicks will come by and perform? Only one way to find out if you'll be part of one of those magical, only-in-New Orleans experiences.