It has been more than a year since the team at the original Frenchman Street Art Market second lined their way to a new home at the Frenchman Art Garage on St. Claude Avenue. Over that period, owner Kate Gaar has had some time to reflect on what the market meant for artists in a post-Katrina New Orleans, as well as where the Garage plans on taking the city's art scene.
In your perspective, what is the Art Garage?
The Art Garage was most obviously the landing place for the Frenchman Street Art Market after my departure in July of 2017. But it has become something separate entirely from what we were doing there. While the Market has remained open as a place for artists to go and work and sell, the Garage has really turned into more of an event space.
How does running an event space compare to running an art market?
This has really been a time to step back and regroup. We've kind of taken a foot off the accelerator here. Because this is more of a place for rent, there aren't as many demands. Its taken out a lot of the pressure and there isn't such a time-crunch. It has given me more time to sit back and think about what this space can really become. At the market, we always had requests to rent the space, but I had to tell everyone no. We can finally provide that space here.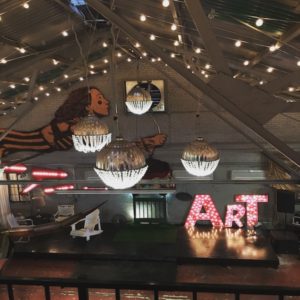 How important do you think it is to have an event space Such as this?
"Every artist deserves their 'ta-da' moment at the end of a project. I really enjoy giving people the platform, so for me, thats what this is about."
How has having the space to do that allowed you to extend the Garage's scope beyond the artist community?
Over the past year we have done all sorts of events. Things like a shoe-release party for Reebok, who hired in a local brass-band. You wouldn't believe the amount of weddings we've done. The bar mitzvah was pretty cool. It's nice being able to help someone celebrate something going on in their life. We're a space for everybody.
Prior to the market, did you come from the art world?
My experience with art was always this kind of grassroots, folk art that my family was a part of. My great-uncle painted the inside of the Saturn Bar. All my family was either an attorney or an artist, and I was raised you can't make a living being an artist. I wanted to show everyone that artists can make a living.
"It was really important expose that… to be involved in the arts world."
So I did jewelry design for thirteen years, and then when the market crashed it was a perfect time to step away. I walked out of my studio and that was it.
Coming from an established location on Frenchman, how have you seen the street develop?
We just did the market as a pop-up because I knew they were cracking down on artist selling on the street during Jazz Fest. This was after Katrina when there weren't a lot of venues. We rented where 30-90 is now, it was an empty lot.
Then, we worked on renting the property by the Spotted Cat and went from there. We had a blast, and all the artists earned a lot.  Over the years more venues have started to open up, people have started to have more choices. It allowed [the market] to stay open more days of the week.
It was a slow change. But its still changing. There's less locals that go there. There more options of anywhere to go in the city. Since the beginning of the market, none of the artist have made that kind of money again.
How do you feel like The Art Garage's digs on st. claude fit into the new orleans art scene?
In New Orleans, you can't force the party. If you force the party, you might as well be Vegas. Its a different kind of arts culture here in the city. When you come into a new neighborhood, you gotta' feel the beat of it. The Art Garage has tried to do that here. This city's art culture cuts with a different knife. I see this being the area to come to see whats happening new in the arts world in New Orleans. St. Claude is the new edge of that knife.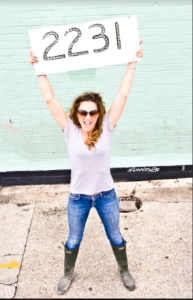 Where does the art garage fit in a world of event spaces?
I think we are definitely a rare thing to find. The space is a bit more intimate. Parties, like Reebok, they want something New Orleans, they want something kind of edgier. This is it. We can do so many cool things here. Theres a live graffiti booth. If we aren't booked on a Saturday night, we can open the door and give artists a place to sell.  The space is always evolving. Its unique.
Kate Gaar is a lifelong artist and purveyor of real New Orleans art culture. Check out her event space, the Art Garage at 2231 St. Claude Avenue.